More Parenting Articles
Lockdown Children Forget How to Use Knife and Fork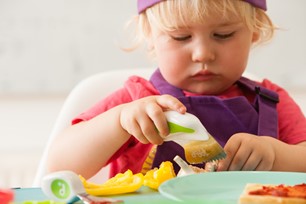 Parents across the UK are now dealing with a third national lockdown that has seen schools closed until at least the end of February. The impact of lockdown on children's development has already been recognised by OFSTED with most children in England slipping back with their learning and social skills, with some forgetting how to use a knife and fork.
The lack of peer to peer interaction is key. Where children would have sat down at mealtimes together and had the opportunity to copy and learn from their peers, they have missed out over the last year.
So what can we do about it?
Mealtimes can be a challenge, but they can also be a huge learning opportunity for children. doddl cutlery has been designed with experts especially for little hands to make the most of it. Their cutlery makes eating easier and helps turn mealtime stresses into adventures, enabling kids' development by helping them really enjoy mealtimes with their families.
Make mealtimes a social occasion
Even if you only have one child – or children of varying ages, try and sit down together as a family to eat your meals. Move baby or toddler from a standalone high chair to the table so they can see everyone eating together and include them in the conversation.
Variety is the spice of life
If your little one is at school or nursery their foods will taste different to your normal home cooked meals. Try and give your child a range of food that they would get at nursery or at school – change things up a bit to enable them to taste different types of foods.
Make it easy
The reality is that the 'cutlery struggle' has a significant impact on a child's ability to enjoy their food, and their mealtimes, limiting the social benefits of eating with their family (or peers) at the table. That's why doddl invented cutlery because, with standard long-handled cutlery, it isn't easy at the best of times.
Have fun!
Get some fun back into mealtimes, so it doesn't become a battle – ask your child to colour in placemats, to write name places for dinner time or get them involved in laying the table however they like (no matter how chaotically they do it..!)
Ideas for Lockdown Lunches
Rainbow Picnic
Why not create a spread of fresh crusty bread, dips, fruit and vegetable crudites, spread out a blanket in the living room and let your kids pick and mix their own plates? Challenge them to get as many different colours into your lunch as possible. For softer fruit and vegetables, little ones can help with prep by using the doddl knife to chop them up.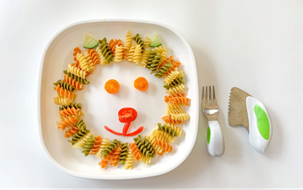 Roaring rotini - This meal is so easy for little ones!
This meal is so easy! Pasta is a dish that can be easily made extra fun by just arranging it on a plate. We've made a lion – what designs can you come up with?
About Doddl
The Doddl cutlery was created with input from nutritionists and occupational therapists. For more information about this award-winning, ergonomic children's cutlery brand please visit: https://www.doddl.com/ 
Win a Doddl Baby or Toddler Cutlery Set
Post a review for us on our Google Business Page and you could win a Doddl Baby or Toddler Cutlery Set. Enter the competition here.