More Parenting Articles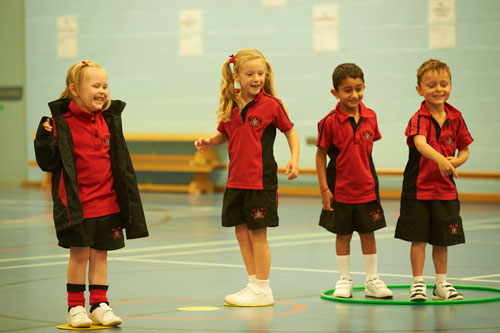 By Mrs Masnica, Teacher of Early Years PE, Quinton House School How to promote physical activity at home and aid your child's development The benefits of physical activity in the early years are well documented; from bone and muscle development to the development of the brain, cognitive skills and emotional wellbeing. In more recent years, sport has been at the frontline in combating childhood obesity throughout a child's lifetime. So how can parents help develop the right habits early on?
Co-ordination – developing a child's co-ordination is hugely important as this will help improve their gross motor skills. Throwing and catching a bean bag or ball, or even rolling a ball to them as they sit on the floor and instructing them to stop the ball, helps improve their hand-eye co-ordination. Kicking a ball will also improve foot-eye co-ordination which will, in turn, have a positive effect on a child's balance. It doesn't matter what equipment you use – throwing and catching a teddy has the same benefits as using a ball.
Balance – doing anything that improves a child's balance and core strength will be hugely beneficial to them long term. This could include jumping off the last step as they go down the stairs, landing on their feet with their knees bent, staying upright. Anything that involves them jumping and landing safely, without falling over, is key. Balancing on one leg or hopping on one leg will help improve this. This can be done as easily as hopping or jumping from one paving slab to another while out for a walk, or playing hop-scotch.
Dance – children can develop their creativity skills and have fun through dance. Children often love just wriggling around and moving their arms and legs, listening to the music and doing what comes naturally to them. This can be a fun way of exercising without a child even realising they are taking part in physical activity.
Mud! – This may sound surprising but in today's society, many children develop a fear of mud and try to avoid getting dirty when playing outside. If they understand that it is OK to get muddy while taking part in a physical activity, they are less likely to worry about it, and will be more inclined to join in and take part in outdoor sports and activities.
At a very young age it is vital we give our children an understanding that physical activity is fun! The physical activity they experience at an early age will decide whether they enjoy sport in their later years or develop a dislike of it. There are so many opportunities available, with a wide selection of activities to choose from, there will be something for everyone.
---
Mrs Masnica is a Teacher of Early Years PE at Quinton House School in Upton. Quinton House is an independent, broadly non-selective school for girls and boys aged 3-16, where specialist PE teaching starts as early as Reception and pupils have the opportunity to participate in a number of PE activities that improve their ABC's (ability, balance and co-ordination), such as dance, game play, athletics, and outdoor and adventurous activities. Established in 1946, the school is set in 31 acres of picturesque grounds. www.quintonhouseschool.co.uk