More Parenting Articles
Tips to Keep the Kids Entertained this Summer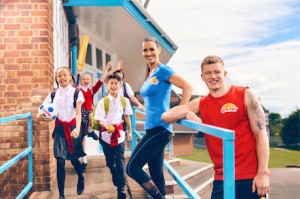 The summer days can be long and entertaining the children for free can be tricky. Sun-Pat Peanut Butter has created a guide that helps you keep the kids entertained everyday of the Summer holidays, with 42 free activity ideas - 1 for each day of the summer holidays. You can download the full guide from the Sun-Pat website and you can enter a promotion to win a 1 of 420 sports kits they're giving away over summer holidays as well. Activity Ideas:
 Hot your own sports day in the garden. Enter for your chance to win a Sun-Pat Sports Kit and create a fun obstacle course. Make shiny medals from string and yoghurt lids to award to the winners afterwards.
Britain has a huge number of outdoor pools, many of which are free, so find your nearest online and head out for a swim following by lunch - Sun-Pat spread on apple slices make a great addition to a picnic.
Head to a local forest or meadow to pick wild flowers - keep track of the flowers you find and arrange them in a beautiful bouquet to enjoy at home.
Create a set of bug bingo cards featuring garden bugs like ladybirds, ants and woodlice. Challenge the kids to find them in the garden to complete the set.
Host a treasure hunt in the garden or around the house - hide a series of treats, such as items from the Sun-Pat Sports Kit and help kids out with clues and a map.
Plant a summer garden of peas, spinach and carrots. Use empty food containers as plant pots and get the kids to water and tend to their own plot over the summer.
On a hot day there's nothing like a sprinkler to help you cool off - adjusting the height of the water to hold a high jump competition in the garden.
Create a rock zoo! Collect unusual shaped rocks and use watercolour paints to turn them into a variety of animals, arranging them in different pens in the garden.
Use paper and crayons to rub impressions of different tree barks - head to the park or forest to collect as many as possible and identify the different species online when you get home.
Tie large blankets securely between trees to create a hammock and enjoy a Sun-Pat sandwich in the shade on a sunny day.
Draw a set of large squares on the patio in chalk and challenge the kids to draw a picture in each square everyday, creating a picture diary of the summer holidays.
Cool down on a hot day with a water fight. Sponges make great water bombs - add non-stain liquid watercolours to the water to create brightly coloured splashes!
Visit a local pick-your-own fruit farm and use your pickings to create a tasty summer dessert - if you don't eat them all on the way home!
Challenge the kids to cross the garden without touching the grass - create a set of stepping stones out of everyday items like frisbees, newspaper and trays.
Get creative in the garden without worrying about the mess! Lay cardboard boxes or newspapers down and encourage the kids to paint using different things, making prints with leaves or even bare feet!
Collect shells and stones at the beach and create a sea-side themed garden border at home.
Create your own flowers designs by picking flowers and pressing them between kitchen paper inside a heavy book. Press for seven days, then stick on paper or notebooks for a summer collage.
Embrace summer rain showers with a mud pie contest in the gardens, using kitchen pans and bowls with wooden spoons. Follow with a bath!
Have fun collecting items on summer adventures like tree bark, stones and acorns, glue them onto card then paints over to create a beautiful, textured painting.
Use a tarpaulin and hose to create a water slide in the garden for hours of fun - extra points for the most creative slide pose!
If it's raining pack a picnic lunch with crayons and paper and visit your local museum. Many UK museums are free to enter and you can challenged the kids to draw their favourite exhibit.
Set up a penalty shoot-out in the park. Take turns in goal with prizes for the winners. Don't forget Sun-Pat treats at half time to refuel!
Mix watercolour paints, soap and water to create spray-able paint and let the kids paint the patio crazy colours! Use an empty washing up bottle or sponge.
Use chalk to create a giant snakes and ladders game or hopscotch to play on the patio or driveway.
Fill balloons with water and small toys before freezing and hiding the 'ice eggs' in the garden for the kids to find - use cocktail stick or cutlery to 'excavate' and discover the toys inside.
Pitch up a tent and camp out in the garden on a clear night - toast marshmallows, pop on top of Sun-Pat smothered biscuits to make Sun-Pat peanut butter s'mores before bed!
Get family and friends together for a big game of rounders in the local park followed by a mix-and-match lunch where everyone brings one dish each to share with the group - Sun-Pat and jam sandwiches are perfect for the kids!
Get creative and tie-dye some old shirts in the gardens to give to friends and family. Use elastic bands to tie bunches in t-shirts before dipping in different coloured dyes.
Create a soap-boat race using bars of soap in a paddling pool or bath. Personalise boats using cocktail sticks to make snails and cocktails umbrellas to add colour.
How low can you go? Play a game of limbo using the skipping rope from the Sun-Pat Sports Kit.
Invent a sport - use a mixture of different equipment from the Sun-Pat Sports Kit or whatever you have to hand and invent rules and scoring before playing with the kids.
Make a homemade bird ball to attract wildlife - just mix a cup of bird seed with lard or suet before shaping and refrigerating. Then hang in the garden and wait to see what creatures it attracts!
Bullseye! Draw a target with chalk on a board outside and throw beanbags or balls at it - the closer to the centre, the more points you get.
Play cricket in the park. Enter for you chance to win a Sun-Pat Sports Kit and take it to your nearest park for a game. We are giving away 10 for each day of the Summer Holidays, so if you don't win first time round, keep trying!
Create letter cards from old boxes, with a different letter on each one and make different words on the lawn or patio - points for the longest word!
Use an old double sheet to play fund parachute games in the garden or park - hold on to the edges to make waves, and take it in turns to line in the middle to be bounced in the air.
Learn how to read a map! Plan a bike ride using a map of your local area to help the kids understand how to read maps and signs, colouring your path and marking out stops for a Sun-Pat snack along the way.
Enjoy the fresh air and take the kids on a hike in the local forest or woods - collect pine cones along the way and paint them back at home to create a garland for their bedroom.
Make the most of a rainy day by laying out blankets on the floor and having a picnic inside for a change - try Sun-Pat and banana sarnies as a great picnic lunch.
Collect sticks, twigs and other decorative items from the garden or park and arrange them in the shape of a favourite animal or character - keep a memory of their creation by photographing it from above.
Build an indoor fort on a rainy day - old bed sheets and blankets draped over chairs can make a great hideaway for a Sun-Pat snack or game of cards.
Choose a favourite toy and take it on a summer adventure, taking a shot of it in as many places as possible to create a travelling toy diary.
---
To help parents keep kids entertained outside this summer Sun-Pat Peanut Butter is giving away hundreds of free sports kits containing a football, cricket set and skipping rope. Parents can enter online to win a kit, with 10 kits up for grabs for every single day of the summer holidays. Also available on the Sun-Pat website is the Fuelling Families guide, a downloadable guide with something different to keep the kids active every day of the summer holidays – each one of them free. http://www.sunpat.co.uk/fuellingfamilies/