Go Back
How To Introduce Your Baby To Solid Food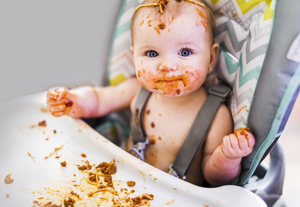 Written by Sally Rowden, Nursery Nurse and Jo Fletcher, Clinical Team Lead, 0-19s Children's Universal Services, Northants. Getting the correct advice before introducing solid food to your baby will not only help your little one to grow up to be healthy, but it will also help you to enjoy this special time. The most up-to-date research tells us that babies only need breast or formula milk up to the age of 6 months.  During the following few months, you can relax and really enjoy the experience of introducing solids, safe in the knowledge that baby's nutritional needs are still met by their milk intake. You may recall health visitors and feeding specialists talking about 'responsive' feeding - the style of feeding promoted by our teams and around the world to get children off to the best start.
Responsive feeding means that the baby is offered food when they are hungry
, and that they join in with the experience of controlling their appetite.  The benefits of this are huge -
your baby will feed the right amount to gain weight according to their own individual needs
; they will learn to feed to the capacity of their tummy; and they'll enjoy feeding times as baby and carer tune into one another.  Just like adults' appetites vary from person to person, so do babies'.  Grownups simply cannot understand how much or how frequently our little ones want to eat without their help. Responsive introduction to solid food means following your baby's lead when your baby is around 6 months old.  Just like feeding with milk,
you will learn together how much and how often your baby wants to eat
. For some babies this will be a slow process of having little bits of finger foods to finally eating 3 meals a day, and for other babies they may really enjoy joining in with every family mealtime very quickly.  Whether slow or fast to enjoy solids, by responding to your baby and enjoying the process together you are helping them to enjoy their food, make healthy choices and control their appetite. We suggest
starting baby with savoury finger food
that babies are able to pick up and put in their own mouths. This is a really great opportunity for your baby to practice their developing skills and to have fun.  Your baby will learn skills in choosing the foods that you want them to continue to eat as they get older.  Mealtimes are great opportunities to come together as a family, so building that sociable, relaxed time into baby's day will also help her to enjoy those healthy foods – a chance for her to see, feel and taste new flavours and textures.  And don't forget - now baby is having solid food, it is important to offer water from a free flowing cup with meals to help her digest the food.
---
The Community Nursery Nurse Team within the 0-19 Children's Universal Service Team are now offering
Introducing Solids
workshops to all parents of babies in Northamptonshire, which include an informal discussion about the guidance around feeding plus many ideas and suggestions to make it safe and fun, such as what foods are safe, allergies, portion sizes, ready-made products and oral health. To find out more, speak to your Health Visitor or contact the 0-19 hub on 0300 111 022 option 4. Visit
www.nhs.co.uk
and
www.firststepsnutrition.org