Go Back
How to Help Your Child Learn to Read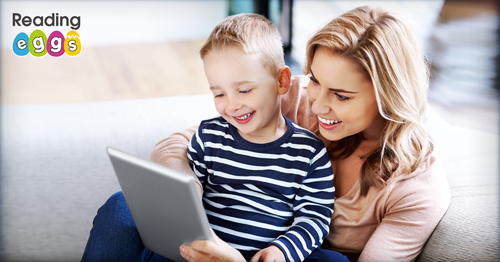 Reading Eggs is designed by experts to deliver fast and proven results to prepare your child for school in the best way possible. Guest post by the eggs-perts at Reading Eggs, the multi-award winning online reading programme for ages 2–13. For a limited time only, Toddle About readers can redeem an exclusive 4 week FREE trial by visiting www.readingeggs.co.uk/ta. Hurry, offer ends 11th February 2018! A child's reading development starts at home, and there's a lot that parents can do to give their child the best start possible. Here are some helpful tips on how to help your child learn to read at home:
Read together every night
Reading books together is the single most important thing you can do. Not only does this support early reading skills, it nurtures an early love of reading in your child, which is crucial for sustained success. It's as simple as enjoying a nightly bedtime story together to get them on the right path.
Draw attention to signs, billboards and labels
Point out signs while out and about, read out labels in the supermarket and ask your child to have a go at sounding out the words on a billboard. By drawing their attention to the sounds that make up the symbols we read, you're developing their phonemic awareness – one of the most important components of learning to read.
Provide a lot of reading material
Give your child plenty of books to read and a mix of reading material, like kids' magazines, comic books, charts and posters. Load up their tablet with interesting e-books and download research-based reading apps like Reading Eggs, which has over 2,500 children's e-books in the online library.
Read their favourite books, over and over again
When children find a book they love, they want to read it twice, three times, ten times, maybe a hundred times (well, at least sometimes it can feel like it!). The good news is that this is great for their reading development. These books usually rhyme, are fun to read (think Dr. Seuss) and are wonderful for building phonemic awareness.
Do the voices and have some fun
Get into character while reading aloud and don't be afraid to do all the silly voices! Remember the prime objective is to encourage your child's interest in reading from an early age.
Allow your child to pick their own books
All children develop their own interests from a young age. Let your child choose the books they want to read sometimes. It can even be a comic book or a joke book.
Model good reading habits
Be the best reading role model you can be and let your child see you with your nose buried in a book regularly. Over time, they'll see that reading is something to do for pleasure and relaxation.
Make use of online reading technology for kids
A great way to build your child's reading skills is by using a research-based, structured reading programme like Reading Eggs, which makes the whole experience fun and highly rewarding. Reading Eggs stands out against other children's apps because it's based on scientific research and designed by literacy experts. The programme uses structured phonics activities that teach children to recognise letter sounds, right from the very first lesson. In fact, children who use Reading Eggs for the recommended 20 minutes per day are able to read their first sight words in as little as two weeks. See how your child can learn to read with Reading Eggs Readers of Toddle About can take advantage of a special 4 week FREE trial of Reading Eggs – the multi-award winning online reading programme for ages 2–13. It only takes a few minutes to get started, and you are under no obligation to purchase until you and your child are 100% in love with it! Sign up at www.readingeggs.co.uk/ta before 11 February 2018.