More Parenting Articles
5 tips for building a family time capsule with your children
Now that we're spending more time at home with the kids as a result of the pandemic, why not get inventive with a project for the whole family? Here, Kirsty Prankerd, Managing Director at Write From The Heart shares her top five tips for building a time capsule with the kids that will document the historical events you're all living through.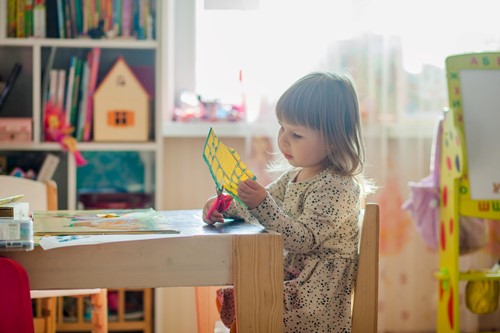 The pandemic has interrupted almost all aspects of our normal lives, but one positive to come from it is the amount of extra downtime it's brought for many families. With extra-curricular activities off the cards for the kids, and trips to the gym or meals out no longer permitted, you may be looking for other ways to occupy your afternoons and weekends. So, why not get creative and organise a family project that you can all get hands on with?
While scrapbooks and arts and crafts are both great activities for getting the creative juices flowing, putting together a time capsule will be a particularly exciting project for the kids. As well as boosting their happiness and mindfulness, it will also help you leave some of your favourite memories for someone else to discover — or for you to dig up in future. Here, I will be sharing my top five tips for creating a great family time capsule with your children.
The benefits of making a time capsule
A time capsule is a great opportunity to group together some of your family's favourite memories, whether that's in the form of pictures, letters, or anything else that you think you'll enjoy reflecting on. In fact, a study published in the Personality and Social Psychology bulletin describes how looking back on happier times can boost your mood, as well as your social connectedness, and can reinforce the meaning of life, which may be particularly important while the global pandemic is disrupting things.  
Although nostalgia is based on past experiences and memories, recalling these can help motivate and inspire you, as well as helping you stay optimistic about the future. This may help both you and your children figure out what you would like to do more of and can even give you some ideas of what to do once the pandemic is over.
As well as encouraging you to reflect on the past and look forward to the future, creating the time capsule will be a fun activity for you to all get involved in. Discussing the things you're adding will no doubt strengthen the bond between you and your children, and seeing what they choose themselves will show what they value in their lives. It can also take temporarily distract you all from any anxiety you may be having around the current pandemic, instead letting you get engrossed in your own dream world of memories.
Planning your time capsule
The first thing you'll need when making your time capsule is a container to hold all the personal belongings you want to include in it. This should be something strong that won't get damaged easily or biodegrade when buried, but the material you choose will also depend on how long you'll wait to dig it up, or if you're leaving it to be found by someone else. For example, if you want to leave your capsule for later generations to discover, you will want to choose something metal-based, such as aluminium or stainless steel.
In all cases, I'd recommend avoiding plastic containers as these can easily get destroyed by the elements or by wildlife that live in the soil. Whatever you choose for your time capsule container, you'll need to make sure it has a strong seal which keeps it closed while buried.
Once you've decided on the vessel, you'll then want to consider how many items you'll be able to fill it with, and whether the items need to be a little smaller or can be a bit bigger. You'll then be able to help your children pick appropriate pieces to fill your time capsule with.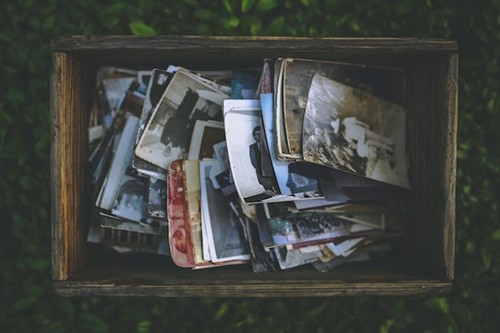 What to include in your time capsule
Your time capsule should be completely personal to your family, so there are no hard and fast rules about what to include in it. However, some things you may want to think about adding could be:
Photographs of your favourite memories together. Remember to date these, so you (or the finders) can see exactly when they were taken.
Letters to your future self. If your children are already learning how to write, this can help them to put their skills into practice. Even if your kids are too young to write, you can construct a letter on their behalf from your old family to your future selves, or to whoever digs up your capsule.
Newspaper clippings from the exact day you intend to bury your time capsule.
A note to whoever finds your time capsule if you aren't planning on digging it up yourselves.
A price list of everyday items like milk, bread, and other essentials to see how they change over time.
To keep your time capsule simple and accessible to anybody who uncovers it, you'll want to make sure you avoid putting anything in that would require technology or anything other than your hand to open it, or your eye to interpret what it is. You might also want to consider adding a contents list of everything that goes into your capsule. This is a great opportunity to have your kids practise their handwriting and spelling and will ensure people know what to expect inside it when they uncover it.
Burying your time capsule
Once you've loaded your time capsule with all the items you wish to add, it's time to bury your capsule! Finding a location for it will be great fun for the whole family, but you may firstly want to consider how long you'll be burying it for and whether you want to dig it up together later or you intend for someone else to find it.
If you just want to leave it a couple of years until your child is old enough to properly reflect on their younger life, then you could consider burying it in your own garden. Just make sure you mark down the place where you've hidden it and keep this information safe until it's time to have your kids unearth it.
If you're leaving it for someone else to find, your garden is still a good option, especially if you think you'll move out in future. Focus on finding a spot near where you think people may dig, such as around a pond or some soil which could make up future flower beds. This will make it more likely for people to come across it, and to discover what your life was like in the past.
Set clues for finding your time capsule
You won't want to forget your time capsule exists as the years go by, so it's important that you make sure a handful of trusted people are aware of your open date, if you're planning on uncovering it as a family. You could maybe add a note to the end of your calendar each year to remind you to carry over the message into the following year until you're ready to find your capsule again.
If you're leaving your capsule for somebody in the future to uncover, you'll want to note down the coordinates and leave a few hints as to where it is over time. This is sure to get your community interested and on the hunt for your time capsule which is sure to bring people together.
Building a time capsule is a great project for the whole family, especially with the current pandemic giving us so much history to look back on. Follow my top tips for planning, creating, and burying your capsule that the kids will love getting involved with.
About the Author
Kirsty Prankerd is Managing Director at Write From The Heart.
Set up in Kirsty's newborn's bedroom with the help of her sister Jen, the pair had just £300 start-up capital between them to start their business. Within months of launching their personalised and remembrance keepsakes on Facebook, the company had grown so quickly that both owners could leave their full-time jobs to focus on their new venture. Even throughout the COVID-19 pandemic, Write From The Heart has managed to continuously exceed its goals. Both Jen and Kirsty believe that their drive and determination, as well as their strong family bond has been the key to their success.