Go Back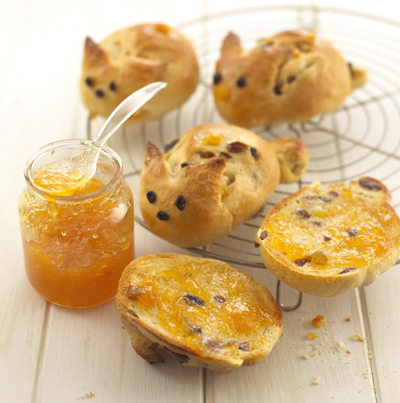 This Easter, why not try Annabel's twist on the traditional hot cross bun. Little ones will love to help create their very own bunnylicious buns! Prep: 45 minutes (excluding proving time) Cook: 15 minutes Makes: 8 large or 12 medium hot cross bunnies Ingredients: 100ml milk 100ml cold water 450g strong white bread flour, plus extra for kneading 1 x 7g sachet easy blend yeast 50g soft light brown sugar 1 tbsp ground mixed spice 1 tsp salt 50g butter, melted 1 egg, beaten 110g raisins 30g mixed peal Sunflower oil, for greasing
  Glaze 2 tbsp milk 2 tbsp caster sugar 36 currants
---
Method:
Put the milk in a saucepan and bring to the boil. Immediately remove from the heat and add the water then leave to cool for 5 minutes.
Put the flour in a large bowl and stir in the yeast, sugar, mixed spice and salt until well-blended.  Make a dent in the centre and add the melted butter and egg, then add the milk and water mixture and mix to make a soft dough, adding a little extra water if needed.
Knead the dough on a lightly floured surface for about 10 minutes, until smooth and elastic. Put in a large oiled bowl and cover with Clingfilm. Leave to rise in a warm place for 1 ½ – 2 hours, or until doubled in bulk.
Turn the dough out onto a lightly floured surface and pat into a large round. Scatter the raisins and mixed peel over the dough, fold it in half and half again, then knead the dough to incorporate the fruit.
Divide the dough into 8 or 12 equal portions. Roll each portion of dough into a ball and put on 2 greased baking sheets, spaced well apart. Press the dough balls down slightly and shape the ends so that they are oval-shaped rather than round.
Cover with a clean, damp tea towel and leave to rise for 30-45 minutes, until almost doubled in size. Meanwhile, preheat the oven to 200°c / 400F / Gas 6 /Fan 180.
To make the bunny ears use kitchen scissors to make 2 long cuts at one end of the rolls. You need to hold the scissors fairly flat on the top of the rolls, points facing to one end. Make 2 side-by-side cuts and slightly pull up the cuts to shape the ears. Do a tail by making a small downwards snip at the other end, where the rabbit's rump would be.
Bake the rolls for 15 minutes. Meanwhile make the glaze by heating the milk and sugar in a small saucepan until the sugar has dissolved. Remove the rolls from the oven and reduce the heat to 180°c / 350F / Gas 4 / Fan 160. Brush the milk and sugar glaze all over the rolls and stick currants on the face end to make eyes and nose. Return the rolls to the oven and bake for a further 5 minutes for the smaller rolls and 7-8 minutes for the larger rolls.
Transfer to a wire rack and allow to cool.
---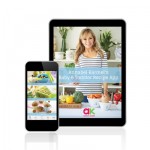 For lots more recipe inspiration look no further than Annabel's Baby & Toddler Recipe App -  new and updated with over 200 delicious recipes, as well as a host of features, this is the handiest of apps for tasty, nutritious mealtimes (and clean plates)! Available via the app store or visit www.annabelkarmel.com for more information.