Go Back
Gifts for Toddlers that literally don't 'Cost the Earth'
Climate change is regularly at the forefront of the news right now, with effects of the changes being seen from the bottom of the oceans to the top of the highest peaks. Whilst the Earth has experienced natural changes during its 4.5 billion years, we know for certain that our increasing populations and activities have accelerated the rate of change.
The time to act is now ….  and every little helps. With Christmas fast approaching here are some ideas for gifts we can give to toddlers that don't have a negative impact on our earth.
Sponsor an Animal
Children love animals. There are many charities that allow you to sponsor an animal. Whether it is a puppy to be trained as a Guide Dog or the conservation of Dolphins in the wild, there is something for everyone.
The WWF offer a sponsorship package for the Polar Bear.
Polar Bears are an endangered species due to the rapid loss of ice. The child will then receive a welcome pack which includes a cuddly Polar Bear toy and an adoption certificate. Throughout the year they will receive updates on the work that is being done to help save these beautiful creatures.
What better gift could there be than something that educates a child about the world and how they can help with saving other creatures.

A Soft Toy Made from Recycled Materials
Toddlers love cuddly toys and always have room on their bed for a new friend.  Thankfully many toy companies are now making an effort to reduce their carbon footprint and producing Eco friendly products made from recycled materials.
Bears4u stock the world's first sustainable Personalised Message Teddy Bears made from 100% recycled materials. The Eco Bear, Finn the Fox and Clementine the Cow are just a few of the cuddly animals available. An Octopus and a great white shark are also in the range and are perfect for raising the issue of the devastating consequences of plastic in our oceans.
So, if a new teddy is top of your child's Christmas list, then you can shop here knowing you will not be costing the earth!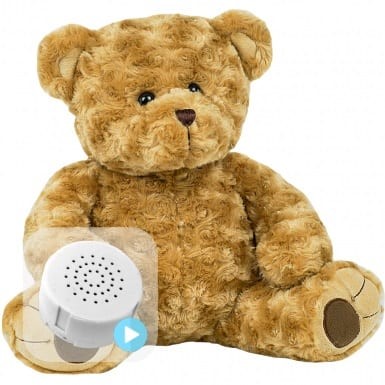 The Gift of Time
Children love spending time with their relatives. Whilst we probably cannot remember what gifts we were given for Christmas from an Auntie or Uncle; we can no doubt remember special days shared with family members.  What better gift could there be than some of your time?
Make vouchers for specific amounts of your time. 30 minutes reading, 60 minutes playing games, 60 minutes staying up late and having a cuddle when the other children have gone to bed. A day out to their favourite place – the park, cinema or just a walk. The choice is endless and can be adapted to your situation.  The child can then trade the vouchers in when they want to use them.
The gift of time is precious and something that children love. We sometimes underestimate how important these little things are to children when we are busy with life.
Recycle a Toy
Get together with some friends and do a toy swap.
Undoubtedly you will have toys that are in perfect condition and no longer played with. Rather than throwing them out and adding to the growing mountains of landfill you can put them to use for many more years. You can wrap your new gifts up so that they look just as special as those from Argos or Toymaster!
We have a long way to go to reduce our carbon footprint but we all have a responsibility to preserve our wonderful planet and all the extraordinary creatures we share it with. So, this Christmas please remember, special gifts don't have to 'cost the earth'.