More Parenting Articles
Top Tips to get your Child Ready for Primary School!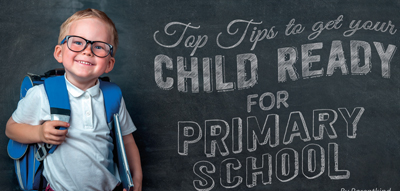 Written by Parentkind. It's nearly time for your child to start school! You're probably feeling excited and maybe a little nervous about preparing them for this next big milestone. We asked charity Parentkind, for some top tips to help you get your child school ready this summer…
Speak positively about school
Over the summer, you can focus on helping your child feel happy and confident about starting school by speaking positively about your own experiences, as well as those of their siblings, friends or extended family. Make it fun by sharing pictures of you in your school uniform, or by showing them your old school books, so that they have an idea of what to expect.
Encourage independence
Encourage your little one to practise getting dressed and undressed, into and out of their school uniform, coat and PE kit. To make it easier for them, look for Velcro shoe straps and elasticated waistbands or clip-on ties; fiddly buttons and laces can be tricky at their age! You can also help them to use the toilet by themselves, remembering basic hygiene rules - little fun prompts like making a hedgehog with their hands when washing them, will help them to remember!
Shop for the essentials together
Get your child involved in choosing their own coat, shoes or bag, as this will make them feel more excited about using these new items. Don't forget, you might want to check out the school's PTA pre-loved uniform sale, particularly if you need to get hold of items with school logos.
Read stories about starting school
Take your child to the library and let them choose some books about starting school. You can use the characters in the book, and the situations they find themselves in, as a tool to speak to your own child about their feelings about starting school.
Get them used to their new surroundings
Familiarise your child with their school before they start - go along to the summer fair and take part in the settling in or welcome events for new starters if you. After these you can start talking about their new teacher, mentioning their name regularly, so they feel like they know them; and also arrange a few playdates with children you know will be in their class so they know a few friendly faces on the first day!
Have Fun!
Starting 'big-school' is an exciting time and a real milestone. Enjoy it, stay positive and don't feel your child has to know how to read, count or write before they start. Everyone develops at their own pace, and the early years staff will be there to support your child as they begin their school journey. The qualities that matter most in reception are things like curiosity, independence and imagination – so make the most of the time before they start school by helping them grow these qualities, and having as much fun as possible with your child!
---
Parentkind champions all the ways that parents can participate in their child's education. For more information about preparing your child for school, visit www.parentkind.org.uk