Go Back
Unique and Fun Products for Little Ones: Shop About Autumn 2017
There are amazing products coming out all the time for bumps, babies and toddlers. Here's our run down of some of the best things available on the market today:
Christmas Eve Box – From £30
Add to your little one's excitement on Christmas Eve with one of these gorgeous personalised Christmas Eve Boxes from Ellie Mai Toy Boxes. Each wooden box in handmade to order and personalised with the name or names of your choice. Simply fill with treats and activities such as PJs, reindeer food, a family game and a Christmas DVD for your little one to enjoy.  Internal Dimensions: 30 x 22 x 13cm.  Last Orders: 1st December 2017. Order at www.fb.com/elliemaitoyboxes      
---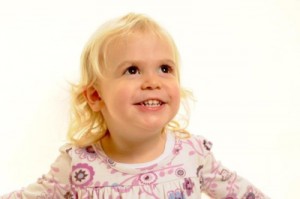 Family First Photography - £1 per image
In 2007, Family First Photography was launched. The aim? To provide affordable photography for vulnerable families in Central London. The cost? £1 per on-disc image. Now 10 years on, what's changed? The target market is now 'everyone'. And the price? Still, just £1 per on-disc image. A fun and affordable way to get some beautiful family images for Christmas gifts, cards and the living room wall.  www.familyfirstphotography.co.uk  
---
Snow White Game - £19.99
Can you help the seven dwarfs find Snow White? From SmartGames, the worldwide leader in multi-level logic games, this game is designed to help children as young as 4 years nurture logical thinking skills, as well as teaching about the use of symbols. With the added bonus of a picture storybook, the whole family can enjoy this sweet game. Available from Amazon UK      
---
Alana's Animals Card Game - £14.99
Alana's Animals is the fun, numeracy game from the award-winning games designer Matthew Tidbury. A simple yet addictive card game for 2-4 players aged 3-7 years, players try to collect the right combination of animals to earn the most rewards (apples). Each game is short (5-10 mins) and will boost your child's confidence with numbers. It is so good at teaching number skills it's recommended by National Numeracy and teachers throughout the UK. Buy from www.thinknoodlegames.com    
---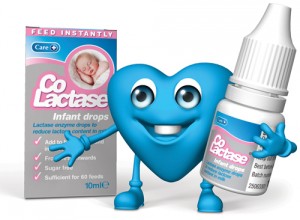 Care Co-Lactase Infant Drops - £9.99 for 10ml
Care Co-Lactase Infant Drops helps make digesting lactose easier for baby without delaying the feeding process. These drops can be used from birth, and are sugar, preservative and flavour-free. They are added to breast milk or infant formula prior to feeding. The lactase enzyme breaks down the lactose in the breast and formula milk which should reduce the symptoms of Transient Lactase Deficiency. Available from Asda, Morrisons, Boots and Independent Pharmacies..  
---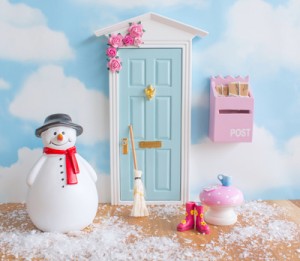 Fairy Doors & Magic Elf Doors - From  £30
If you are looking for a timeless gift that will totally enchant the whole family, look no further   than The Fairy Nice Trading Company. Quite the most exquisite Fairy Doors that we have ever     seen, each comes with an adorable letter from the Fairies personalised just for your little one.   Continue making magical memories all year with the (free) membership to their secret Fairy   Circle where you will find inspiration, printable Fairy letters and much, much more.  www.fairynicetrading.com  
---
Cheeky Monkeys Game - £9.50
There's no hanging around in this fun strategy game for all the family! Be the first to collect the most bananas on your tree...but watch out for the other cheeky monkeys trying to steal them! A fun Christmas gift for ages 4-8 years. www.orchardtoys.com      
---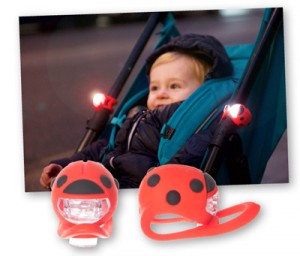 Buggi Lights - £14.99
Shaped like ladybirds and extremely easy to fit, Buggi Lights are a fun, simple way to make sure your buggy is visible. Available in 6 match-to-your buggy colours, Buggi Lights can be seen from 300 meters away- an essential when crossing the street as the nights draw in. In each box you get a white LED light to face forward and a red LED light to face backwards - just like a car! And with a stretchy loop which fits any sized bar it'll only take a few seconds to make sure your baby's buggy is safe and seen whenever you go out. www.buggilights.com  
---
Mini Threads Funky T-Shirts - £12
If you're looking for something different and, well, better for your child to wear, then check out Mini Threads. Lovingly made in the UK from super soft cotton interlock, their T-shirts are individually hand printed using baby safe water based inks. Gift wrapping is included on all online orders. Order from www.mini-threads.com