More Parenting Articles
Father's Day this year is 21st June 2020
Here are some great ideas for gifts for Dads this Father's Day.
Signature Brew Father's Day PUB IN A BOX (Editor Recommendation)
For Father's Day 2020, Signature Brew are launching a Father's Day Pub in a Box - just because you can't take your dad to the pub this Father's Day, doesn't mean you can't bring the pub to him.  Not only does the box include beers, glassware, snacks, a pub quiz and more, it also includes a Father's Day card with a treat inside… tickets to a brewery tour (incl tastings!) for two at their state of the art brewery in East London on a date of dad's choosing (post lockdown, of course).
Having received a box here at Toddle About, I can confirm that this is a lovely treat to get in the post! The beer is plentiful and delicious, the snacks are yummy, and the glass is very fine. All-in-all a great gift for a beer-loving dad.
RRP: £35  |  Buy from: Signature Brew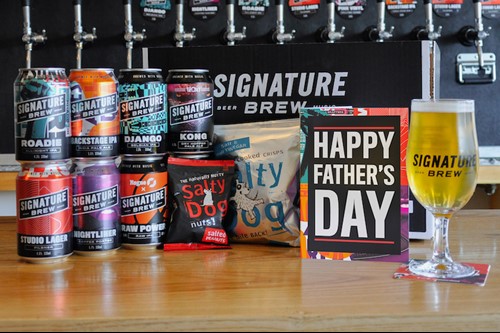 Give the gift of fun this Father's Day, with the number one bestselling board game, 30 Seconds. With over 2 million copies sold worldwide to date, this fast-paced general knowledge game gives players just 30 seconds to describe five names on their chosen card, for their teammates to guess – the perfect solution for evenings indoors to lift the mood! From landmarks to TV shows, celebrities to popular songs, players will be kept on their toes whizzing through the list as fast as they can without saying the actual names or using any 'sounds like' or rhyming tactics - sure to have the whole family in hysterics! 
RRP: £29.99 | Stockist: Amazon UK
Aerobie Superdisc Frisbee (Editor Recommendation)
Playing frisbee is a fun way to spend time with the kids and as a family. Not just fun, it's good exercise too! We have this frisbee at home and recommend it highly - it has a spoiler rim making it really easy to throw accurately (a blessing with younger children) and the soft edge makes it easy to catch too.
RRP: £10 | Stockist: Amazon UK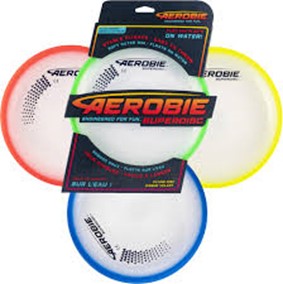 playmobil Back to the Future Delorean
This year, the classic 1980s film Back to the future™ celebrates its 35thanniversary. To commemorate the milestone, PLAYMOBIL has launched a brand-new collectable version of the classic DeLorean the perfect gift for dads who love to relive their childhood. The iconic DeLorean from the cult series has been reimagined as Playmobil goes back to the future!
RRP: £49.99 | Stockist: Amazon UK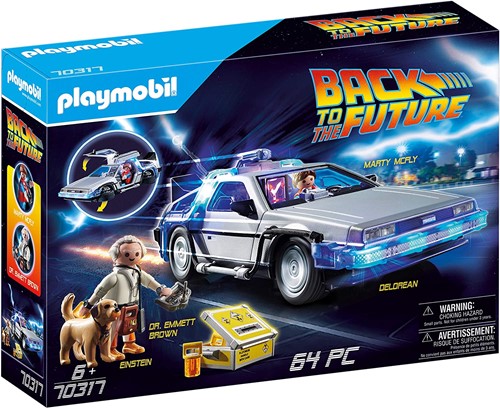 The brand has some gorgeous cosy pyjamas so Dad can join in on the twinning too – with the signature stripe coming in all sizes from newborn to adult. Since 1976, Polarn O. Pyret have continually developed sustainable products, with a wide product range in organic cotton and recycled materials, you can show your love for the planet too! 
RRP: From £25 | Stockist: https://www.polarnopyret.co.uk

IQ Arrows from SmartGames, is sure to point all avid gaming dads in the right direction this father's day. From easy to expert, navigate your way through the booklet of 120 challenges to solve the puzzles by fitting the arrows in place. With all 7 game pieces needing to be on the board to complete the challenge, this single player mind boggler will keep you guessing which orientation the arrows should be in and how the colours should be arranged for hours! Be careful though - you might be diverted!
RRP: £9.99 | Stockist:  Amazon UK
For the man that has everything GeoSmart, the magnetic construction system is ideal! The ingenious 'Flip Bot' allows you to create your own remote-controlled vehicle; a super cool robot car with turbo motors, which once constructed, you can enjoy driving it and watching it flip! For those not familiar with GeoSmart, it really has proved to be an ideal STEM magnetic construction set, featuring bright colours, strong magnetic geoshape pieces and a patented double-safety system. Since every piece is compatible with each other, this has become a popular collectible range for all ages!
RRP: £38 | Stockist: Amazon UK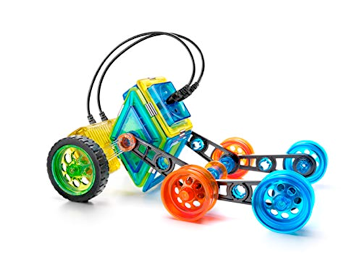 Enabling Dad to enjoy the babywearing experience whilst bond with baby from day one, the Izmi Carrier is the ultimate essential for both new parents. The award-winning carrier is renowned for its adaptable design as it seamlessly combines the functionalities of a soft structured fabric sling, with the support of a buckled carrier. The multifunctional carrier cleverly adapts for use from newborn up until 18 months, meaning an abundance of cosy quality time for both the wearer and the new arrival!
RRP: £85 | Stockist: Amazon UK