Go Back
Father's Day Craft Activity
Father's Day is on 19th June 2016 - here's a seriously cute card you can make with your little one for daddy :-).
'You Make My Heart Soar' Fingerprint Card
[caption id="attachment_1171" align="alignright" width="300"]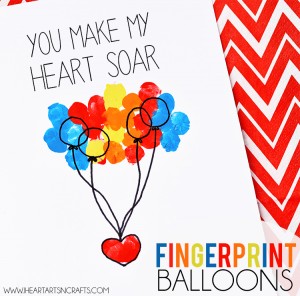 Gorgeous (but simple) fingerprint balloon card[/caption] You will need: • Paper • Paint • Black Marker • Some little fingers Instructions: 1. First, have your child make some fingerprints using different coloured paints for the balloons. 2. Next using two fingerprints you'll create a heart below the bunch of balloons they just made. 3. Then you'll take a black marker and outline the heart, then you can draw a few balloons with some strings connecting down to the heart. 4. Add in a cute saying " You Make My Heart Soar" . Done!
---
Craft Courtesy of Mummy Blogger 'I Heart Arts N Crafts': www.iheartartsncrafts.com