Go Back
Easy Plants to Grow with Kids
Spending time in the garden is a hobby that so many of us enjoy, and it's one that you can get your kids into early on in their life. In fact, doing so could provide a number of advantages when it comes to their learning and development. Here are some of the benefits of gardening with little ones and the plants you should choose to inspire them to grow.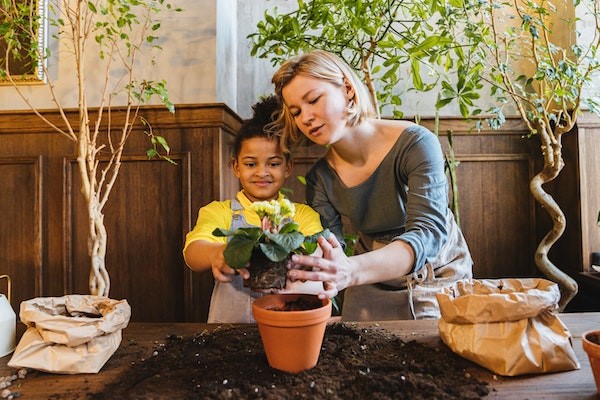 The benefits of teaching kids to garden
Gardens are interactive playgrounds for kids of all ages, giving them the chance to run around, practice fine motor skills and engage their senses. The brightly coloured flowers, fresh air and different textures they'll come into contact with offer up a bounty of great learning opportunities for little ones. And, of course, it's an activity that parents and kids can do together which makes it a bonding exercise too. 
Learning how to garden, particularly at an early age, can teach kids a multitude of skills, from patience as they wait for seeds and bulbs to blossom, to responsibility and the importance of taking care of wildlife and birds that come to the garden throughout the year. The sensory experience that gardening provides is fantastic for early development and it's a wonderful hobby that your child can take with them throughout their life. 
Toddlers are naturally curious, so it's an age where parents should be looking for ways to nurture that curiosity and passion. Gardening is an activity that is nourishing in every respect and can do wonders for inspiring kids, getting them learning and asking questions, and as they grow, understanding the science behind plantlife. Getting kids inspired to garden is surprisingly simple too and there are plenty of easy plants you can start off with to get them growing. 
Colourful flowers
If you're looking for a simple way to motivate young kids, bright colours can be a highly effective tool at your disposal, and there are so many colourful flowers that don't require much maintenance to get started. Sunflowers are the most popular flower for kids to get started with as they're not particularly fussy plants and the bright yellow blooms are guaranteed to delight your kids. 
Nasturtiums are also a bright and simple plant to grow that has the added benefit of being edible and tasty when added to a salad! If you want to add the element of surprise, why not scatter wildflower seeds and wait to see what pops up? Wildflowers are a wonderful way to add colour to a garden and have the added benefit of attracting bees too.
Fruit and vegetables
If you want to encourage kids to eat their five a day, there's no better way than getting them to grow their own fruits and vegetables. Not only will they enjoy the process of growing different types of greens and sweet fruits but they'll also be able to try different flavours when they're fully ripe, so it's a win-win. Peas are ideal for little ones as they have a sweet, mild flavour that isn't off-putting to children, and since they're planted in early spring, it makes for a fun Easter activity for them too. 
Tomatoes are similarly sweet and juicy, and you can grow them in a pot or a grow bag if you don't have the space for them in a veggie bed. Strawberries can be grown in a hanging basket, or even an empty container or bucket to save on space, while cress is the simplest microgreen to grow indoors and can be grown in different shapes – why not plant the seeds in the shape of a smiley face or their initial? 
House plants
Not everyone has an outdoor space they can devote to planting seeds and bulbs, but that doesn't mean that gardening is off the cards for you and your kids. There are plenty of houseplants you can get started with that your little ones can tend to and care for. Kitchen herbs such as basil, chives and mint are all wonderful options that take up barely any space and are practical for cooking too. 
Succulents are also ideal houseplants for kids as they're drought-tolerant, so if they forget to water them for a few weeks, it won't affect them. Alternatively, why not choose a regular house plant such as a snake plant that is hardy and can cope with shaded spots and intermittent waterings. Look for plants that don't mind inconsistency when it comes to light or watering, so that if your kids forget, they'll be able to cope. 
Gardening is a relaxing activity for people of all ages and it's a wonderful hobby to get kids into early on. Not only will they learn a valuable skill but it will enhance their development and, depending on what they choose to grow, it will provide them with tasty snacks along the way too. 
Getting kids inspired to get their hands dirty and take responsibility for a plant or two teaches them the art of patience and shows them that their effort and hard work will be rewarded, which is incredibly fulfilling. Whether you give them a space in the garden to call their own, a window box filled with herbs or their very own houseplant to take care of, there are plenty of easy plants that kids will have no trouble learning to grow.