Go Back
5 Tips for Throwing an Egg-citing Easter Celebration at Home
Looking to put together a spring-themed activity? In this article, Amber Sims from EverythingPrinted shares her tips for throwing a party for your little ones this Easter.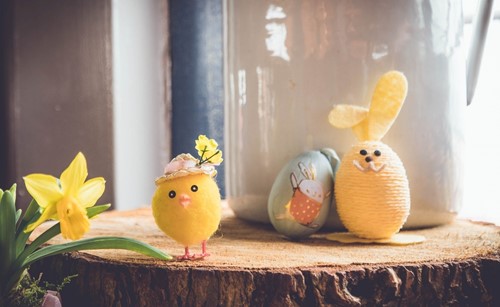 Easter Sunday is coming up on the 4th of April, and after a whole year of lockdowns and restrictions, the spring holiday is a great excuse to do something extra fun with your little ones. But with public events cancelled and social distancing measures in place, this year we will be celebrating at home.
However, an Easter party in your house or garden means you and your kids get to choose the activities as well as the food, so why not take the opportunity to go all out? If you're looking for ways to make this Easter one to remember, below I'll share five tips for throwing a fun party at home for young children.
Have an Easter egg hunt
It wouldn't be Easter without an Easter egg hunt! Kids of all ages will love searching your home or garden for hidden eggs, whether those are chocolate, plastic, or hard-boiled eggs you've painted. If you get the whole family involved, you can hand out prizes to the people who find the most eggs and turn it into a real competition. Alternatively, if you have a small family, use a stopwatch and see how many eggs your child can find before time runs out.
Why not have your children prepare their own batches of colourful eggs for the hunt? The day before, simply boil eggs for at least 10 minutes (so they're definitely hard-boiled), leave them to cool, and then your little ones can decorate them with paint or glue.
Do a present swap
Kids love receiving presents, but they also like to feel special. So, look for Easter-themed presents you can personalise such as printed chocolate bars and sweet jars, or cuddly rabbits with their names embroidered on, to give them during the party.
Ahead of time, ask them to find or make you a gift. Not only is exchanging gifts a nice way to mark the occasion, but you can cherish what you receive for a long time afterwards and remember all the fun you had that Easter.
Interact with nature
As well as eating chocolate and egg hunting, Easter is a great time to think about spring and how things grow. Have your little ones try their hands at growing their own crops by turning hollowed out egg shells or empty egg boxes into cress growers. All you need to do is line the bottoms with cotton wool, wet it, then sprinkle on some seeds. The cress will grow in just a few days and then you can eat what you harvest.
Make Easter decorations
If you're stuck for craft ideas, you can try your hand at making your own Easter party decorations. Have them draw up plenty of posters with pictures of Easter eggs, spring flowers, and baby animals. For 3D posters, you could even use real flowers, plus cotton wool can make great sheep wool, chick feathers, or rabbit tails! Then, cut sheets of paper into triangles, let your kids decorate those too, and thread them onto ribbon or string to make bunting.
Serve an Easter feast
So many great foods are at their best at this time of year, from spring greens and sweet potatoes to Bramley apples and rhubarb. So, use this opportunity to showcase the best of the season in your cooking as well as educate your kids about seasonal produce. To appeal to little people, prepare bite-sized party foods they can eat with their hands rather than a sit-down meal.
Have your kids help out in the kitchen by whipping up an easy, no-bake dessert. Remember birds nest cakes? Mix cereal and melted chocolate in a large bowl, spoon the mixture into cupcake cases, then add two or three egg-shaped candies to make adorable little nests without the need for a hot oven.
These are just five great ways you can entertain your little ones with a spring-themed celebration at home. Give them a try and it's sure to be an egg-cellent Easter!