Go Back
By Maxine Lewis, Founder of Inspiring Kids World
A delicious alternative Easter treat that is fun to make and even better to eat!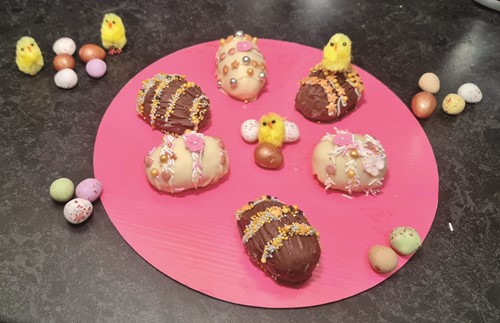 Ingredients
75g margarine
75g caster sugar
75g self-raising flour
1 egg
1½ tbsps. milk
½ tsp Vanilla essence
Tub of vanilla frosting
100g bar milk chocolate
100g bar white chocolate
Method
Whisk the margarine and sugar together until creamy
Add in the eggs and whisk
Fold in the flour
Add the milk and mix together
Pour into 6 cupcake cases and bake for 20 minutes at gas mark 4
When cool, crumble the cupcakes together.
Add enough frosting to the crumbs to make it mouldable
Mould into egg shapes and chill in the fridge for ½ hour
Coat with melted chocolate
Leave to set in the fridge
Drizzle on melted chocolate and add sprinkles to decorate
Enjoy!