More Parenting Articles
Delicious Recipe for Budding Chefs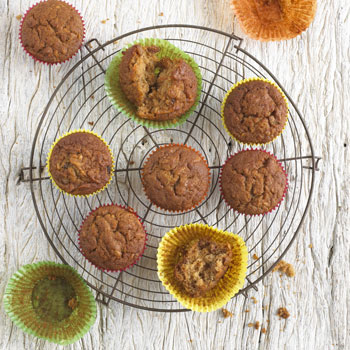 No.1 parenting author and leading children's cookery expert Annabel Karmel shares her top recipes for budding chefs. Prep: 10 minutes Cook: 20-22 minutes Makes: 12 muffins Ingredients 175g self-raising flour 1 tsp ground ginger 1 tsp ground cinnamon 1 tsp bicarbonate of soda 100g light brown sugar 2 eggs 3 tbsp golden syrup 150ml sunflower oil 150g carrots, peeled and grated 50g apple, peeled, cored and grated 75g sultanas
Method
Preheat the oven to 200°C/400°F/Gas 6. Line a muffin tin with 12 paper cases.
Sift the flour, spices and bicarbonate of soda into a bowl, then add the sugar. In a separate bowl, combine the eggs, syrup and oil, then pour them into the bowl with the dry ingredients.
Whisk until smooth. Stir in the carrot, apple and sultanas.
Spoon the mixture into the muffin cases. Bake for 20–22 minutes, until the muffins are well risen and golden brown. Allow the muffins to cool in the tin for about 10 minutes, then transfer to a wire rack to cool.
---
For lots more recipe inspiration look no further than Annabel's Baby & Toddler Recipe App - new and updated with over 200 delicious recipes, as well as a host of features, this is the handiest of apps for tasty, nutritious mealtimes (and clean plates)! Available via the app store or visit www.annabelkarmel.com for more information.