Go Back
Craft Projects for Little Ones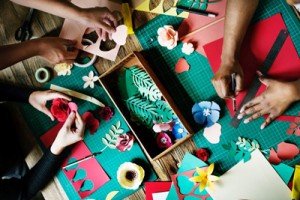 By Moa Hoijer from Mavens of London. It's lovely to have toddlers around the house. Unlike their older siblings, there's no rush to get them to school on time and lots of free hours during the day to try out fun projects. If you or your child find yourselves confined to the house (perhaps your child is at home with a cold, or it's pouring outside) you might enjoy trying arts and craft activities. There are lots of different toddler-friendly ideas and these projects are often a great way to help develop motor skills as well as more general creativity. Here are three step-by-step guides to our favourite arts and craft projects plus hints and hints to keep you sane while doing so, like tips on removing ink from clothes and precautions to protect your house from the inevitable mess!
1. T-Shirt Painting Young children always love this idea. Used to being told to keep themselves clean and tidy, this is a chance to get a little messy and get a bit of that mess on their (old) clothes! Start by finding some items your children no longer wear or buying a few cheap, plain t-shirts from a charity shop. Then get yourself permanent markers and fabric paints. If you're feeling extra fancy, try glitter pens. Once all the stuff is assembled and you've put some newspaper down to protect the work surface, just let your kid(s) get to work. Like many craft activities, there's always a risk the materials don't go quite where you want them, so if any of the ink or permanent marker gets on the clothes they're actually wearing have a look at this handy article on removing ink from clothes.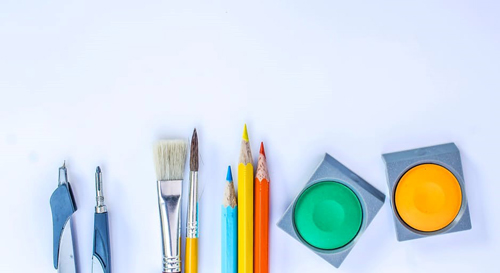 2. Pine Cone Decorating Decorating pine cones is a great option for autumn. With this activity you can combine exercise and creativity. Take your little one out for a short walk in the woods and challenge them to find a few big, intact pine cones. When you get home, give your child some paints, glue and glitter and help them use their artistic vein to decorate the pine cones. If they enjoy the activity, you could do 10-15 pine cones and string them up in your child's room for an unusual decorative display. 3. Potato Printing This is a time-tested classic. Children enjoy the novelty of playing with their food and getting to create their own personalised stamp. Take 2-3 raw potatoes per child and cut each in half. Ask your little ones to draw a design, then cut it into the potatoes using a paring knife (adults only for this part to avoid injuries). Once the potato stamps are cut, get kids to dunk them in paints and start printing on large sheets of paper. The options for patterns and pictures are endless. Those are some of our favourite crafty activities. Try a few with your child and see what they enjoy. All kids have a creative streak, so our job as parents is to help them find and explore it. More importantly, it's great fun!