Go Back
Cloth Nappy Myths Exposed
By Anna Leeksma, Owner of The Cotton Nappy Company.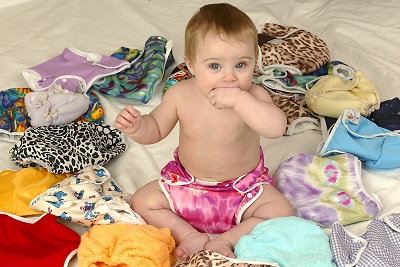 By the time your baby is potty trained, they could have used between 4000 - 6000 disposable nappies. Most nappies are made from plastic, which does not rot down and the UK throws away a staggering 3 billion nappies every year. Cloth nappies present an excellent, but often misunderstood, way to prevent all this waste.
Real Nappy Myths.
Having to wash the nappies negates the benefits. Real nappies really are good for the environment AND your purse. Full cloth nappy kits (from birth to potty) start from £195 for a good system. Disposable will cost between £800 - £1500. Extra washing comes to a surprisingly small sum of just £1 per week, so you save over £500 with real nappies. Not to mention the fact that you can use the same nappies with your second child – or that you can sell them on after you've finished with them! Environmentally, using real nappies instead of disposables can reduce your household's global warming impact by up to 40%.
Real nappies are a pain. In fact, modern cloth nappies are really easy to use. You don't need to sterilise, boil, scrub or soak them. Nowadays, flushable liners let you dispose of the mess quickly; used nappies are put in a mesh bag in a bucket. The whole mesh bag is then popped in the washing machine to wash between 40-60 degrees.
Cloth nappies cause nappy rash. Actually, disposable nappies can cause more nappy rash than their cloth counterparts. Disposable nappies contain an absorbent chemical gel which sits close to your baby's skin and can cause irritation. In contrast, having a natural fabric against your baby's skin can reduce nappy rash.
It's hard to put them on You no longer need to fold cloth nappies. Modern real nappies are shaped and fasten with Velcro or poppers. Easy!
---
Find out more and get hands-on with real nappies at The Cotton Nappy Company Shop in Leamington Spa (41 Russell Street, CV32 5QB). Pop in during April and May for some great offers to celebrate Real Nappy Week! Shop online at www.thecottonnappycompany.co.uk