More Parenting Articles
Alison Steadman shares her favourite brunch as part of charity campaign for fatally ill children.
By 'Harrison's Brunch' from Duchenne Muscular Dystrophy charity
One of the UK's favourite actresses is lending her support to a charity fundraising campaign that is encouraging people from across the UK to get brunching in June to raise money for fatally ill children.
Acclaimed actress, Alison Steadman, has shared her favourite brunch to mark the launch of 'Harrison's Brunch' from Duchenne Muscular Dystrophy charity, Harrison's Fund.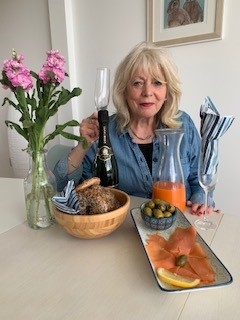 She said: "My favourite brunch is smoked salmon and cream cheese bagels, lemon, pickled gherkins, pickled herring with a selection of olives and sundried tomatoes. All accompanied by a glass of Buck's Fizz.
"This was our regular Sunday brunch when my two sons were children and teenagers, and it brings back happy memories of us all together sharing. We still meet up occasionally and share this brunch and there is always a discussion about the best bagels and where to buy them!"
As part of the campaign the charity also ran a survey to find out what the nation's favourite brunch is with a 'Full English Breakfast' coming out on top with 39% of the votes, followed by 'Eggs Benedict/Florentine second with 21% and pancakes and waffles third with 12%.
Harrison's Fund is named after the 14-year-old Harrison Smith from Surrey who was diagnosed with Duchenne Muscular Dystrophy, a rare genetic condition which affects all the muscles in the body, causing them to waste away.  The charity's goal is to get as much money as possible into the hands of the world's best researchers, who are working to find a cure for Duchenne. Harrison's Fund is currently funding three research projects in the US and the UK.
All the proceeds from Harrison's Brunch will go directly into the hands of scientists. The charity is currently working with Sutura Therapeutics which is creating pioneering technologies to improve the delivery and efficiency of Duchenne treatments and ensure that the drugs are getting into the muscles in the body as effectively as they should.
Laura Morgan, events and fundraising manager at Harrison's Fund said: "Now that we are allowed to meet up (in line with the Government's current guidelines) it is the perfect time to get together with your friends and family and host a brunch – if this past year or so has taught us anything it's the importance of spending time with those you love.
"Duchenne is a cruel, relentless and fatal condition that affects 2,500 children in the UK and thousands more across the world. So as you get flipping those pancakes and crunching that granola, know that you'll be giving hope to parents who are watching their child lose the use of their muscles and deteriorate before their very eyes. The more people, like Alison, who join in and support us, the more families we can give hope to and defEAT this disease once and for all." 
To help make every brunch a huge success, the charity has put together a free fundraising kit, jam-packed full of materials including bunting, posters, fundraising tips and celebrity chef recipes to inspire, including the charity's own ambassador, 'This Morning' TV Chef Theo Michaels, who has created a special Harrison's Brunch meal plan, a no fuss Kedgeree dish, in his recently launched FiveDinners Meal subscription service.
And for everyone who takes part and hosts a brunch they will automatically be entered into a competition to win a year's subscription to Theo's Five Dinners Meal Planner.
To join in and get brunching please visit: www.harrisonsfund.com
*T&Cs of the competition can be found on the charity's website.
About Harrison's Fund
Harrison's Fund was set up in 2012 up by Alex and Donna Smith, in response to their son Harrison being diagnosed with Duchenne, a type of muscular dystrophy. Its aim is to raise money to fund the world's best researchers, who are working to find a cure for the disease. The charity is currently funding 16 research projects in the US and the UK. Duchenne is a fatal neuromuscular condition caused by the lack of a protein called dystrophin which results in progressive muscle weakness. One in 3,500 boys is born with Duchenne muscular dystrophy in the United Kingdom each year and there are currently around 2,500 boys and young men with Duchenne. Their average lifespan is just 20 years and it is 100% fatal. Harrison's Fund is different from many other Duchenne charities out there because it focuses entirely on trying to find a cure for the disease rather than on palliative care. www.harrisonsfund.com