Go Back
Breastfeeding in Art – Medela Mums get Creative for World Breastfeeding Week
To mark World Breastfeeding Week 2020 (1st-7th August), Medela launched an initiative to inspire and encourage the online community of breastfeeding mothers to encapsulate their breastfeeding journey in art. From painting and poetry, needle work and abstract pieces, the team is thrilled to unveil the top entries, as the global celebration of breastfeeding begins.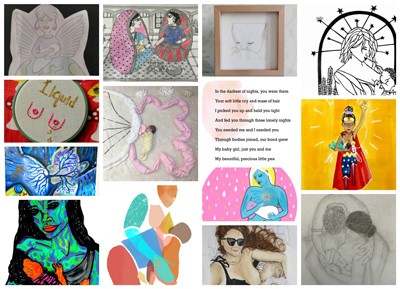 The social competition was extremely popular, with each entry celebrating an individual breastfeeding experience, however the artist wanted to represent it. Entries included everything from embroidery, poetry, painting, photography and even papercutting, many with heartfelt, personal stories behind them.  The Medela mum's community certainly demonstrated their multitasking talents once again!
'Wonder Woman' Painting by Daniella Stamper, 'Painted with inks in between breastfeeding, pumping and taking care of my 5 month old girl Mylah, I thought we needed to celebrate the fact that we are all Wonder Women!'
The stunning collection of artworks will be displayed on Medela social media platforms across World Breastfeeding Week, where the top 14 entries will be shared, leading to the announcement of the overall winner on the final day.
Medela continues to embrace its community and find new ways to involve them in breastfeeding celebrations. Through any ups and downs or however mums reflect on their journey, Medela's goal is to always keep the breastfeeding conversation going and encourage mothers to talk (or draw!) about their experiences. It's all about mum to mum support. 
Medela's Marketing Manager, Charlotte Price, commented on the celebration:
'Our community is so important to us at Medela, so to embrace different initiatives and campaigns that are truly focused on the mothers themselves, is really key for us. We were blown away by the incredible Breastfeeding in Art entries, the time and care each artist has taken is astonishing. We really hope that the mums who took part got as much out of this breastfeeding celebration as we did, we can't wait to share all of our favourite entries this World Breastfeeding Week!'.