Go Back
Baby Swimming: Answering FAQs
Most parents want to teach their child to swim, but there are many things that new parents need to know. Such as how young baby should be before they can go in the pool, or if you need to wait for them to have their immunisations. Water Babies kindly offered to answer the most commonly asked questions for us: "What are the benefits of baby swimming?"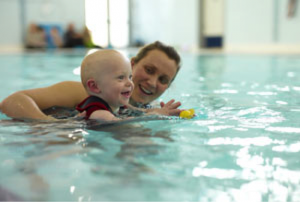 There are many benefits of baby swimming! Water safety is the main reason that most parents choose to take their baby swimming. By introducing your baby to the water at a young age, they become familiar with the environment and would not panic in the event that they fell in water. Swimming is also extremely beneficial for your baby's cognitive and physical development: Physically, the water allows babies to exercise muscles that they can't on land as it eliminates the constraints of gravity by providing a supportive environment. Also, the repetitive movements of bouncing and splashing provide a great stimulation for a baby's sense of motion, co-ordination and balance. This in turn also helps cognitive development. During your baby's first year of life, their brain will grow more rapidly than at any other time and every movement they make helps to boost this growth. Swimming provides a complete physical workout for your baby, strengthening the heart, lungs and respiratory system which, in turn, promotes brain development. Learning to respond to voice commands used in swimming lessons can also make babies sharper mentally and increase levels of understanding.  And one of the best bits? Regular swimming in warm water both relaxes your baby and stimulates their appetite, leading to improved sleeping and eating patterns! "How old does my baby have to be before I can take them swimming?" As a general guideline, we recommend that 12 weeks or 12lbs (whichever comes first) is the point when your baby can start swimming. Babies can swim before this in warm water pools (30-32 degrees) and we may recommend a wetsuit, and can swim from birth in hydrotherapy pools (around 33 degrees). However it is important to know that babies under 1 year cannot regular their body temperatures well and may get cold quickly: you can tell if a baby is cold as their lips and finger nails will go blue! Obviously all babies are different, so if you have any particular concerns about starting your baby swimming, do speak to us so we can advise you on whether you should wait a bit longer. "Can I take my baby swimming if they haven't had their immunisations yet?" According to official NHS guidelines, you can take your baby swimming regardless of whether they have had their first immunisations or not. The chlorine in the pool kills all of the bacteria they are being protected against, so they are safe to start beforehand. Originally polio was a live vaccine but this is no longer the case so there is no risk of a live vaccine being excreted into the pool. However, if your baby is more than 6 weeks premature, we would suggest that you wait until they have had their first set of injections.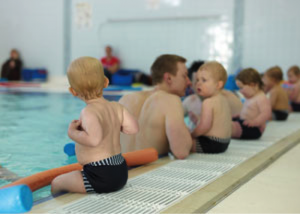 "Should my baby just wear a swimming nappy in the pool?" A disposable swim nappy alone will not prevent any accidents from leaking out in to the pool. We use a double nappy system in our classes, consisting of a disposable swim nappy, or reusable equivalent, underneath (i.e. Huggies' Little Swimmers) with a SplashAbout® Happy Nappy or a Neo nappy over the top in order to keep everything well and truly retained! "How do I know if the instructors are qualified to teach baby swimming?" At the bare minimum, your instructor should have their level 1 swimming qualification and completed their STA or ASA mothers and babies qualification. We take this very seriously at Water Babies so all our instructors hold their level 2 swimming qualification as a minimum along with a resuscitation qualification. However, we take this very seriously and have worked with the Amateur Swimming Association to develop a Diploma in Baby Swimming which all Water Babies instructors are working towards.  We are the only baby swim school whose course is recognised as being the early stage for the ASA Learn to Swim programme. Do not be afraid to ask! "I can't swim. Can I still teach my baby how to swim?" Yes of course, we have taught hundreds of parents and carers who range from slightly lacking confidence in the water to being outright terrified! The water is always shallow enough to stand up in and you don't ever have to go underwater unless you want to. One of the most rewarding areas, as a teacher, is seeing parents develop in confidence with their child. "My baby suffers from persistent ear infections. Can I take them swimming?" When you little one has an ear infection, you should not swim with them. It is important that when a baby/toddler leaves they pool, they are taught to tip their head from side to side to allow the ears to drain. A doctor should be consulted if your child has an ear infection and persistent infections may mean your child's ears are not draining properly and may require grommets at a later stage. It is important to know though that swimming is not the cause of ear infections. Ear plugs can be worn by children to prevent water getting into the ears. "My baby has eczema. Will taking them swimming make it worse?" Babies with eczema can swim; the severity of the eczema will determine whether this is a good idea or not. Swimming pool water will dry out your child's skin so all babies should be given a shower/bath that day and the skin moisturised. Eczema suits can be worn in the pool which will help with keeping barrier creams close to the skin whilst baby is swimming – they also help with holding baby because they can be slippery! ---------------------------------------------------------------------------------------- Thank you to Water Babies for preparing this article especially for Toddle About. Water Babies swimming classes are run across the country. To find out more about Water Babies classes, visit www.waterbabies.co.uk.