Go Back
The Multi Award Winning Family Arts Festival Returns
[caption id="attachment_2351" align="alignright" width="200"]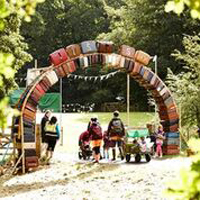 Just So Festival enables families to step out of their day to day lives and into an imaginative outdoor adventure[/caption] JUST SO FESTIVAL ANNOUNCES PROGRAMME AND NEW EXPERIENCES Just So Festival, 18 – 20 August 2017, Rode Hall Estate, Cheshire. The multi award-winning family arts festival, produced by Wild Rumpus, has revealed its full programme of regional, national and international artists and performers and new areas for families to adventure through in 2017. Now in its 8th year and recently awarded Best Festival by the National Outdoor Events Association, Just So is an annual, intimate, weekend-long festival – an imaginative outdoor adventure like no other as the only arts camping festival in the UK dedicated solely to children and their families.   With a love of stories and childhood escapades at its heart, Just So Festival enables families to step out of their day to day lives and into a wonderland of world class literature, arts, theatre, dance, music, comedy and creative pursuits together. Underpinned by the Tribal Tournament, the most bonkers competition in the land, it takes audiences (from bumps to great grandparents) on a unique expedition of mischief and mayhem, to lands full of magical midnight feasts, curious creatures, raucous pillow fights, hidden retreats, top notch food, drink and boutique camping options and breathtaking beauty.
NEW AREAS FOR JUST SO 2017:
The glorious lakeside Silver Screen is a new large-scale area dedicated to all things cinematic. Recreate famous dance scenes from favourite flicks, join a musical chorus line, slapstick and ukelele workshops, become extras in a Just So epic production and get ready for Hollywood with film star styling. Look out for absurd usherettes and a"drive-in movie experience like no other" in Ecstatic Cinema, the new walkabout show from Kitsch n Sync Collective and become part of a theatre company for a day, producing your own show in Gypsy Caravan Theatre. Expect marvellous music, theatre and dance all themed around the big screen and the completely competitive Just So Film Quiz. Bring a blanket while night falls to the beautiful outdoor cinema here and snuggle up to watch the best silent movies and family classics together in a programme supported by Film Hub North West Central and the BFI.
Head to the new Social Barn for a completely crackers celebration of fodder. Located next to The Social (with its incredible array of artisan food and drink) expect insect eating, foraging, the inaugural Just So jelly fight, Jellybean architecture challenges and compete in the Vegetable Games (skittles, Jenga and juggling with veggies!). Don't miss the chance to make and play your very own instrument in a Vegetable Orchestra and of course, the famous Just So Midnight Feast and The Great Just So Bake Off.  
Inquisitive family explorers can discover the new Forgotten Courtyard, an area for children aged 8 and older in association with acclaimed current affairs magazine The Week Junior. Set within Rode's Italian Garden in the atmospheric ruins of the Old Tenants' Hall it will provide a creative space for inquisitive young minds to stretch their knowledge of the world around them through challenging and exhilarating workshops, provocations, debates and talks including photography and writing workshops, the chance to take part in a topical debate with The Week Junior team and to have your news articles, front covers and pictures created at the festival featured in the magazine.
Some of the UK's favourite children's authors will be leading interactive sessions here revealing more about the creative process behind their storytelling and sharing the best new books out this year. Blue Peter book award-winner Kieran Larwood (Podkin One-Ear) will be providing guidance on how to invent your own world and design your own fantasy world map, Mike Brownlow (Ten Little Dinosaurs, Monsters, Pirates and Princesses book series) will be sharing the process of making a picture book and Froggicorn author and illustrator Katy Jones will be leading a session on devising strange creatures culminating in the creation of a brand new Extraordinary Beast.   Author Sarah Mussi (Snowdonia Chronicles Trilogy) will be leading a session on uncovering fact and fiction behind the legends surrounding the dragons of Wales and the tales of Merlin.
[caption id="attachment_2353" align="aligncenter" width="400"]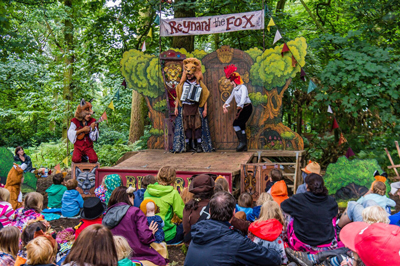 Adventure into Tales of Animalia to encounter lands, creatures and characters beyond your wildest dreams .[/caption]
---
SOME OF THE BEST OF THE GLORIOUS REST – THE NEW PROGRAMME FOR 2017:
Step into the extraordinary Spellbound Forest for Theatre For One from Horse & Bamboo, tales from our storyteller extraordinaire Ian Douglas, and tickle your senses further with a new Barefoot Walk experience from our friends at Natural Reatreats. Join the team from Chester Zoo across the weekend to become a Wildlife Champion by buzzing like bees, becoming mesmerised by moths, discovering bats, singing for songbirds, creating homes for wildlife and building storytelling dens. Don't miss campfire tales, bonfire bands and an invitation to a special Wedding Feast here as dusk falls and the woodland magic really begins.
In the magical Woodland Theatre award-winning performance poet Joseph Coelho will reveal the mysterious rules of The Werewolf Club, how to look like a rainbow and how to fold up your gran.  Laugh until you fall over at a new show from comedian James Campbell and don't miss Goblin Theatre's brand new musical take on Peter And The Wolf with animal antics a plenty.
Adventure into Tales of Animalia to encounter lands, creatures and characters beyond your wildest dreams from the strange imaginations of our friends at outdoor theatre company The Fabularium. For those festivalgoers considering ill behaviour experience new performances The Cautionary Tales of the Animalia and hear stories of those who have committed dark misdeeds and met darker consequences including Naughty Little Suck-A-Thumb, Cruel Frederick and The Cat and the Matches.
Deep within the forest find Away With The Fairies, an enchanting secret fairyland. Spy sprites making mischief up in the trees, meet the Fairy Queen and make woodland crowns and all manner of other fairycraft.
Head to the eccentric Village Green to experience the best new outdoor performance for families including Matthew Harrison's The Actual Reality Arcade – a life-sized interactive game zone for all ages, inspired by classic arcade games. Keep your eyes peeled for Baba Yaga's House by contemporary circus and theatre company Dizzy O'Dare – a ramshackle old cottage which roams the land on chicken legs while Baba flies in her giant pestle and mortar – she might tell your fortune, or then again she might just eat you.
The Village Green is also the nerve centre of the Tribal Tournament and where festivalgoers can encounter a sports day with a difference -  pillow fighting anyone? Throughout the festival join the Bee, Fox, Frog, Owl, Fish, Stag or Lion tribes to compete in ridiculous games and all manner of unexpected shenanigans to earn coveted golden pebbles and be crowned the winning tribe. Find your tribe on festival Sunday and take part in the Tribal Parade, a Just So highlight.
Do some more wild whirling and swirling at Jitterbug where more unmissable music and dance performances and workshops include CanCan, Charleston, Circus Swing, Flatfooting, Bollywood and Ballet.  When evening comes, dance the night away at the DISCO here too.
Step through a verdant archway into the new Weleda Peekaboo Garden – an area of botanical bliss and innovative performances, activities and right royal facilities for 0-4s in a new location close to the family campsite. Experience some huge adventures for little people connecting us to our natural world.  Look out for the curious bubble-loving snail Snigel in brand new inspirational performance The Adventures of Snigel and step into a nest to join the daily life of a bird family in Fine Chisel Theatre's new show Fit, Flap Fly. From the early morning until night, music, dance and movement, painting, baby book club, baby massage and baby yoga will ensure the littlies doze off to the sound of our bedtime lullabies to soothing live beautiful harp music as dusk falls.
[caption id="attachment_2352" align="aligncenter" width="400"]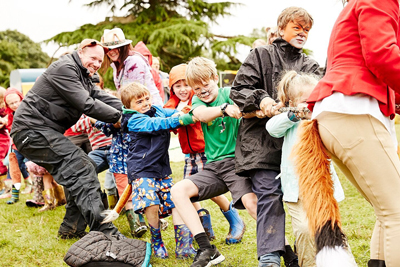 The Village Green is where festivalgoers can encounter a sports day with a difference![/caption]
---
Just So is set in woodland clearings, rolling parkland, arboreal amphitheatres and lakeside spots in the Rode Hall Estate, Cheshire, one of the most stunning landscapes in the UK, with limited public access the rest of the year. A not-for-profit arts festival, the ticket price includes all entertainment and programming across the festival site, with capacity capped at 5000 to ensure a magical, relaxing and safe environment for all. Winners of Tourism Experience of the Year, Festival Kidz Gold Award and Inclusive Tourism Award, Just So Festival aims to create memories treasured by families year-round and has a pioneering approach to accessibility, enabling families with all needs and preferences to enjoy and participate together. Families planning to come to Just So 2017 are being advised to buy tickets earlier than usual this year, with tickets selling at a record rate for the 5000 capacity August event.
---
START YOUR ADVENTURE NOW: Tickets: Full weekend with camping: Adults: £140 / Children: £50 / £80 = Adult 2 day ticket / £30 = Child 2 day ticket / £50 = Adult day ticket / £20 = Child day ticket. / Under 3's go free. (Local residents are eligible for a £5 discount). Family adventurers should keep their ears to the ground for more adventures and surprises to be revealed each month. For information and tickets visit www.justsofestival.org.uk.  Follow Just So @justsofestival https://www.facebook.com/justsofestival