Go Back
Incorporating Music into your Little One's Day!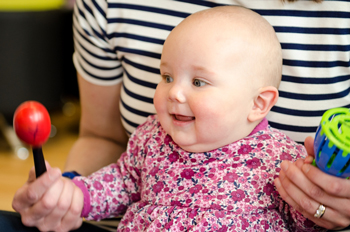 It's no secret babies love to listen to voices – in fact, very early on they will recognise the tone, rhythm and pitch of a familiar voice. During their first year, children will pick up all the sounds they need to know so that they can learn and develop the ability to speak in their 'mother tongue'. When listening to music, children are grasping elements of their native language. They will practise making these sounds in preparation for producing their first recognisable words in a couple of months. The accompanying rocking and jiggling actions are not accidental. Research has shown that when we move and sing at the same time we engage nearly all of our brain, which enables us to translate and store new information very efficiently. Here we talk to Monkey Music, to give you some top tips on how you can incorporate music into your little one's day.
It's never too early to expose your child to live music. Go along to local dress rehearsals for shows and concerts and stop to watch the buskers and live bands on the High Street.
Instead of humming the tune of your favourite nursery tune, use different sounds to make up the tune - this way you are allowing your child to hear single syllable and vowel sounds from their mother tongue …ba ba baa baba ba ba ba ma ma maaaa dada da daaa!
Try to punctuate your day with familiar tunes and rhymes so that your child associates a happy routine with positive musical sounds. For example, you could sing a 'getting up and getting dressed song' and a 'getting ready for bed song'. This allows the child to hear your voice, which is their most preferred sound of all.
Dance and sing all the time! And have musical toys and baby friendly musical instruments around for your baby to play with.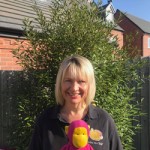 Claire Haydock, local mum-of-two, has been running Monkey Music Stratford-upon-Avon & Leamington Spa since 2005. She's a huge believer in the benefits of an early introduction to music. "It's amazing to think that the ear is the first organ to develop fully in the womb – meaning babies can start to take comfort from the sound of their mother's voice from just 11 weeks," Claire says. "Early exposure to singing, listening to and playing music can sharpen up a whole range of skills – and it's something everyone can incorporate into their day, without having to spend a penny. "In babies and infants, greater exposure to music increases cell changes in the area of the brain concerned with speech. And since music uses both sides of the brain, it boosts other areas too, such as movement, creativity, spatial reasoning, memory and emotional intelligence. So, get creative and give it a go!" Monkey Music classes run across Stratford-upon-Avon, Warwick, Kenilworth and Leamington Spa - www.monkeymusic.co.uk