Go Back
Written by Dr. Helen Andrews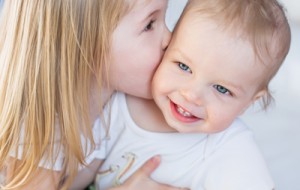 Good forward thinking and planning can help make the arrival of your new baby easier on their older sibling. It is an exciting time, preparing to welcome a new baby into the family. However, we have all heard horror stories about older siblings rejecting their new brother or sister. So what can we do to reduce the chance of this happening? The first thing to say is that it is very rare for there to be significant and long lasting problems.
Of course there will be a period of adjustment, as there is for all family members but, handled well, this will settle without concern. What does 'handling well' mean? I think it means being thoughtful about the changes your older child will be experiencing in their day to day life, acknowledging the impact this has on them and becoming an expert at forward thinking and planning.
Preparation During Pregnancy
During the later stages of pregnancy you can access one of the many books, specially written to help prepare toddlers for the new arrival. Usborne books are one of the companies that publish them. I remember reading a fun book called There's a house inside my mummy. This will provide the opportunity for your toddler to ask questions or for you to imagine together what it might be like. If they express anxieties at this stage, you can acknowledge what they are saying but reassure them – "you're right, mummy will have two babies – two babies to love and play with". Make sure you have your childcare plan in place early, ready for when you go into labour. If your toddler may need to go somewhere different to the norm (a neighbour or unfamiliar relative), try and go there beforehand for a play. In advance of the delivery, buy and wrap a gift from the baby for his big brother or sister and pack it in your hospital bag.
When Baby Arrives
After the delivery, if you are being visited in hospital, try and get advance warning of your toddler's arrival. Then you can ensure that the new baby is in the bassinet and your arms are free for a big cuddle. Ideally wait until your toddler asks to see the baby, alternatively, ask him/her if he would like to see the baby now. If they need a longer cuddle, that's fine. Arrange a safe cuddle position for toddler and baby, and make positive statements – "wow, you're good at being a big brother", "I can see the baby is going to love having cuddles from you".
Try not to show excessive anxiety! When you get home, there are going to be changes for everyone to get used to. Planning will be key. Feeding time will be when you are least available and your toddler may feel rejected and become more demanding. Ensure you have taken your older one to the potty, prepared snacks, and got a book to share or the TV remote to hand. When baby is asleep, try to spend fun time with your toddler – if the housework/cooking really needs doing, find a way to do it together! If baby needs to be with you to sleep, try a sling, so your hands are free for your toddler. Your toddler needs time to be the big boy/girl – helping out with nappy changes and the like. However, they will also need time to be little – to be cuddled and nurtured.
With so much changing, try and continue with normal activities. Toddler groups, nursery, bathtime and bedtime routines – all will present new challenges but if you can manage to keep them going, your toddler will realise that not everything is changing. There may be blips as baby gets older, and starts knocking down carefully constructed towers, or taking toys – keep calm, try to understand everyone's viewpoint and know that this is normal. As your children learn to manage sibling conflict, they develop a skill that will be useful throughout life.
-------------------------------------------------------------------------------------------
Thanks to Toddle About reader Eleanor Digby for requesting for this topic to be addressed by our Panel of Experts! Dr Helen Andrews is a Clinical Psychologist with over 15 years experience working with children and young people. Through her business, Family Matters in Warwickshire, she helps parents when they can see that their child is struggling with their emotions, behaviour or development.
Contact Helen on 01564 795337 or find out more at www.familymattersinwarwickshire.co.uk