Go Back
A New Parenting Support Group "Yummy Mummy's" is Born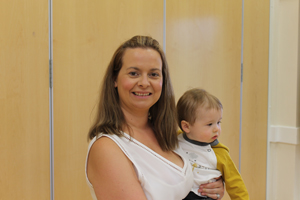 Helping supporting mums to be and new parents is what Vanessa wanted and needed to do
Local Mum Vanessa Carey sets up the Yummy Mummy's in Witney
Vanessa Carey had a rough pregnancy. Not long after the exciting moment when she discovered she was pregnant in January 2015,
she developed a condition called Hyperemesis or persistent, severe vomiting
. It got so bad that she was admitted to hospital for 5 days and experienced pre-natal depression. At the same time, her husband was away from home regularly with work and she didn't have any family nearby, so she felt very isolated and alone. Things were looking up when her son Orin was born happy and healthy – she loved every minute of being a mum. But 2 weeks later, with her husband away again,
Orin began suffering with really bad reflux and colic
: a condition where babies cry constantly. She struggled and felt helpless to ease her son's suffering. After researching Orin's condition, she discovered Baby Massage. She combined a new routine of baby massage with a few other techniques and the
results were practically instant
- Orin was back to being a happy boy again. Vanessa explains what happened next:
"Soon after, I helped a friend in a similar situation and when I got word back that her baby symptoms had all cleared up, I had my light bulb moment. This is what I wanted and needed to do – to support mums to be and new parents."
Vanessa set up a Facebook group called
Yummy Mummys.
Through the group, she arranges regular meetups in Witney for mums and also provides info on what's happening for families in the local area. You can join the group at
www.facebook.com/groups/780321095405533/
She also trained as a baby massage instructor so she could teach other parents how to settle and soothe their babies – and
Mum Loves Baby
was born. She now run regular 4 week Baby Massage courses, details of which can be found at
www.facebook.com/Mumlovesbabywitney