Go Back
A Natural Education - Forest Schools
By Nicola Valentino, Akeley Wood School Playing out until sundown in the fields and woods surrounding home is unlikely to be something that small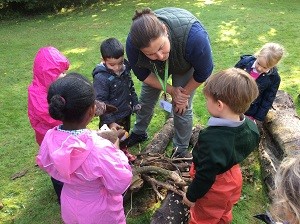 children get to enjoy too much in today's fast paced, safety conscious society. Weekend clubs and events can take up such a large part of a small child's diary that interacting with nature can sometimes fall to second place. The introduction of a Forest School, a facility that sits on site at school, can help to bridge the gap by bringing outdoor learning, resilience and self-esteem development into the school day.
A Forest School provides a safe, yet challenging and thought provoking environment.  Learning opportunities are play-based, complementing a child's traditional classroom teaching. Using facilities such as firepits, dens, rope swings and bug hotels, Forest Schools provide children with a real opportunity to learn alongside nature whilst building self-confidence. Forest Schools first sprang up in Sweden in the 1950's, and made their way across Europe to Britain in the mid-1990s where they are finally becoming more understood and accepted. Through a Free-Flow Play approach, children are encouraged to take the lead with their learning and staff follow the children's interests, enabling them to get the most of the outdoor environment. This harnesses the children's natural thirst for knowledge, and allows them to take on tasks that are appropriate to their skill-level and interest, causing their self-esteem and confidence to grow as they accomplish each task. There is good evidence that forest schools work. Studies carried out in both Sweden and Germany found that children who attended forest schools were far happier than their urban-school counterparts. They showed that they had higher self-esteem and levels of confidence, and interacted with other children and adults in a much kinder, tolerant and co-operative manner. They also had fewer sick days, and showed improved levels of concentration and coordination. The Forest School environment helps children develop in many ways, including: Healthier bodies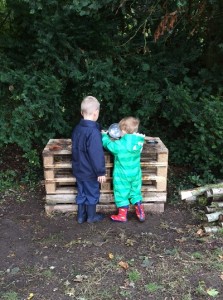 Increased physical fitness through activities.
The development of motor skills.
Healthier Minds
Opportunity to interact with peers in unrestricted space.
Children can investigate and problem-solve using nature.
Children have time to relax and contemplate when exploring interests.
Healthier Environments
Children learn to appreciate and respect the environment.
Children learn about human impact on the environment.
Ultimately a Forest School promotes a child's interaction with the outdoors and their understanding and respect of nature as a resource. Through fun activities such as den building, climbing trees and problem solving, a child gains self-belief and the absolute determination to see a task through to the very end. These skills further support the child's classroom-based learning and successful peer interaction throughout their life at school.
---
Akeley

Wood School in Wicken near Milton Keynes are making the most of their impressive grounds to give their children an outdoor education through a Forest School.  If you would like to arrange a visit to learn about their nursery or junior school provision, contact Admissions on 01908 555 803 or registrar@akeleywoodschool.co.uk.