Go Back
7 Ways to Adapt your Home for Kids
Kids are the heart of any home. And as they make your house feel like heaven, you must make your space comfortable for your children so that they love spending time in it. Like any other parent, we know you also want your children to feel safe and sleep comfortably in the house. But how to make an ambiance inside the house where the minds, bodies, and souls of your children re-calibrate?
Remember, your home is supposed to be the place where your children can unwind themselves. And if they cannot be comfortable in their own home, it will impact their overall growth. Well, this article is all about making your house more adaptable for your kids.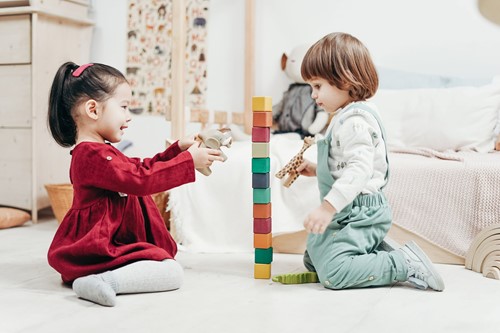 Let Them Play On Rugs
Have you seen some parents who yell at their children whenever they spill something on the floor? You definitely don't want to be like them. Remember, your children learn through plays. And they're bound to spill things in the process. 
And as we understand the hassle of clean-ups, we recommend using area rugs for the spaces where your children spend time playing. This way, you not only provide a comfortable space to your kids, but you can protect your floor from getting dirty more often. 
Buy Rounded Furniture Pieces
Your house is a compact and cozy space, and when your children play around the house, they can become a little prone to minor accidents if your home involves furniture pieces with sharp edges. To minimize the risks of accidents we recommend buying round-edged furniture. 
If you already have sharp-edged furniture at your home, you can consider applying edge protectors to limit the potential mishaps.
Use A Kid-Friendly Paint
You may have heard before that the colours of the walls in your home set the mood of people inside the house. And it's literally true for your kids too. While painting your home, you need to be a little focused on your kids. Choose colours that will brighten up your home and make your kids more relaxed and calmer. Also, don't forget that your kids can make a mess by drawing on the walls. Fortunately, washable interior paints are a great solution to such masses.
Go For More Storage Space
To make your home comfortable for your kids, it should always be decluttered. And we hope you know the number of belongings your kids have. Now, what's the solution? Well, you can never have too much storage space to store your kids' belongings. We recommend keeping as much storage space as possible to store your children's toys, clothes, and other accessories.
Place A Few Baby Gates
Baby gates are a staple for child safety. Attaching baby gates at some places of your home, such as the top and bottom of your stairs, can keep your children safe from potential accidents. Nowadays, you can buy many baby gates with a sleek look and convenient design.
Install Some Surveillance Cameras
You cannot be everywhere at once. But you need to keep watching your kids all the time to keep them safe, even inside the house. However, modernization and home automation have made it easier for parents to check in on their kids even when they are not with them. Installing some security cameras in your home will help you have eyes on different places of your house, whether it's your kid's playroom, bedroom, or basement. 
Invest In A Good Mattress
To have happy kids, you need to ensure that your children are sleeping well throughout the night. The fact is that we spend a lot of time sleeping throughout our life and it really makes sense to ensure that those hours are the best. Investing in a good mattress and pillows is a must-do to have happy kids around the house.
Most of the time, parents really don't care to think about whether they are comfortable in their home or not. But when it comes to kids, they become super concentrated. Hope the above tips help those parents looking forward to making their houses comfortable for their kids. Happy Parenting!