Go Back
4 Features To Consider When Buying A Baby Changing Mat
You're going through this list probably as an expectant parent on the verge of completing your baby shopping list as you prepare for the arrival of your little one. With so many things a new baby comes along with, this means you can end up confused once you head out shopping for each item. There are many brands you can choose from that has all sorts of features and other perks they may boast about. Because of this, you may simply feel as if you're drowning in a sea of options.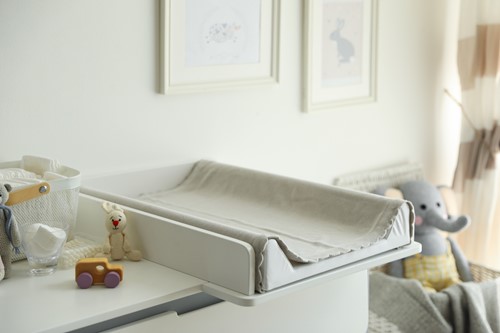 However, you shouldn't forget a nappy changing pad in your list. It may be one of the less-than-glamorous items on your list, but nappy changing is an inherent part of parenthood. Granted, in the first few months of your baby, you're going to go through a lot of nappy changing sessions, which is even messier when your baby starts to eat solids. When you have a designated nappy changing mat, you can make this easier for you and your baby.
To guide you as you shop for the right baby changing mat, be mindful enough of these features:
Raised Sides
A good nappy changing mat should have raised sides. This may not be as useful during the first few months, but once they learn how to roll, your baby will be twisting and moving a lot, making it difficult to keep them in place.
With raised sides, you can prevent your baby from rolling and falling. This means you have an added layer of security. So, you can have your hands free to handle the nappy mess, rather than feeling stressed about holding your baby still.
Along with raised sides, here are two other safety features that you should look for:
Non-skid bottoms.

Your nappy changing pad shouldn't be slippery. Otherwise, with small movements, it'll move along with you as well. This increases the danger of the changing mat moving too much. A non-skid bottom ensures the mat stays in place.

Safety straps.

This is an added feature, like a seatbelt, that

prevents baby from rolling

. This gives you peace of mind as you pick up something you need when you change their nappies.
Waterproof
Pee and poo explosions can happen a lot when changing nappies. So, you have to be prepared for this. If your nappy changing mat isn't waterproof, it's going to absorb all the pee and poop. This means you're going to have to brush and deep clean your changing mat more frequently than usual.
Plus, if your changing mat isn't waterproof, it'll only make those nappy changes even a lot messier. When pee or poop seeps through the mat itself, it can easily spread to your baby's legs, hence you now have to give your baby a bath.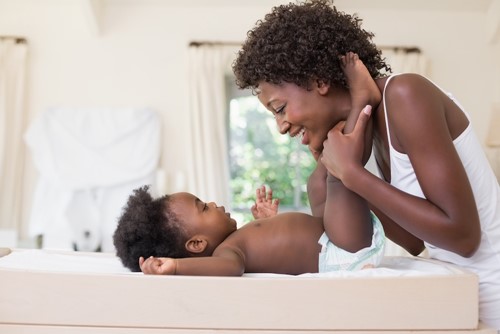 Easy To Clean
Tired parents wish for one thing (apart from sleep, that is): convenience. So, above all other features, you should opt for a nappy changing mat that's easy to clean. If it isn't, then there's a huge chance that it'll be a hassle for you when you use it.
Remember, a nappy changing mat is supposed to help you speed up and do a better job at nappy changing. If it isn't easy to clean, then it's only adding up to the millions of things a new parent has to do in a day.
Typically, you want to look for a reliable material like foam or vinyl. These materials resist absorbing poop and pee. So, all you have to do after a change is to give the mat a good wipe and spray with your disinfectant, then it's good to keep.
Contour And Good Cushion
Comfort is also key during the first few months of your baby's life. If your baby is uncomfortable even during a nappy change, you can expect them to be fussy. Don't underestimate how fussy and how loud an unhappy baby can scream and cry. 
With a nappy changing mat that has good cushioning and also contours to their body, you can keep your baby comfortable as you change their nappies. This means their frail body has adequate support. Also, your baby will feel as if they're just resting in their crib.
Takeaway
Hopefully, this article has shed some light to answer your question on what nappy changing mat you should end up buying. The features above may seem so basic, but basic is all you need. All of the features above can lead you to a nappy changing mat that actually does its job.
Now, you're finally ready to tick off a baby changing mat from your shopping list.