Read More News
Theatre Royal Christmas Cabin Returns To arc Shopping Centre With Magical Performance For 2-7 Year Olds
Theatre Royal has just released tickets to their Theatre Royal Christmas Cabin which will be in the Arc Shopping Centre again this year from 17th Nov – 24th Dec!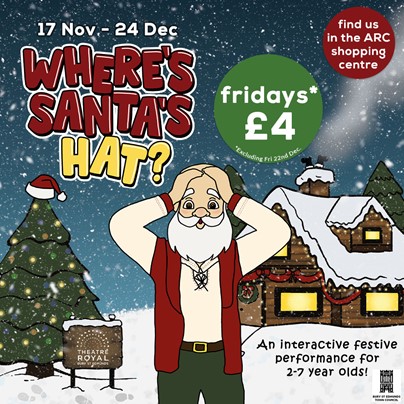 This 20-minute interactive performance is perfect for 2-7 years olds and their grown-ups. Tickets can be bought online at theatreroyal.org. Babes in arms do not require tickets.
"Santa and his helper were just as you would have imagined them in a book, it brought Christmas alive to my 3yr old and a twinkle of magic for me, seeing it through his eyes." – Parent of Where's Santa? Audience member in 2022.
Theatre Royal's Christmas Cabin is returning and this year, the audience finds Älva and Santa back again in Santa's living room, but the house is in disarray! The Boxing Day Hide and Seek World Championships are looming and although cosy, darling and Christmassy, things are a bit awry... To make things worse, Santa has lost his hat and can't deliver his presents without the help of Älva, a Mouse and the children in the audience. Maybe they can help him find his hat!
Last year's performances of Where's Santa? at the cabin was seen by 2,786 adults and children: The magic created for my daughter was heart-warming. "Just watching their faces was incredible. The actors were great and it was just a fabulous experience." – Parent of Where's Santa? Audience member in 2022.
Santa will be played by local actor Greg Hanson of Bring Out Your Dead Productions and Älva will be played by local actor Grace Wellfare, professional actor and acting coach. 
Bury St Edmunds Town Council are supporting this project which brings theatre and live performance outside the walls of the theatre into the town centre with these special performances for young children and their families. Bury St Edmunds Town Council have also funded over 300 tickets for those in receipt of Universal Credit which were released on Thursday 9th Nov on a first come, first served basis. All tickets are expected to be claimed by Mon 13th Nov. More details here: https://bit.ly/47rG674 
Theatre Royal's Artistic Director, Owen Calvert-Lyons is excited to present the follow-up to 2022's Where's Santa?, "In Bury St Edmunds, we are renowned for our fantastic pantomime and following on the tremendous success of last year's performance of Where's Santa?, we again wanted to create something special for the younger children in the heart of the town centre - a theatrical twist on meeting Santa. When children step into our Christmas Cabin they will be transported to a magical place – Santa's living room!"
Where's Santa's Hat? was written by local actor and children's author Hatty Ashton from Bury St Edmunds. Hatty played Älva in 2022's performance at the cabin called Where's Santa? and was thrilled to be asked to write the following year's performance. The performances will be directed by Theatre Royal's Head of Creative Learning David Whitney. 
Tickets for Where's Santa's Hat? are £4 on Fridays (except 22nd Dec) and £6 for all other days. Booking in advance is encourage but some ticket may be available on the door.