Read More News
FIRST EVER MONSTER JAM® UK TOUR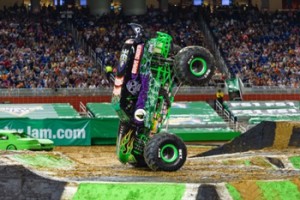 On your marks, get set, go… The larger-than-life sport that always leaves you entertained, Monster Jam®, is roaring into the UK for the first ever tour. Premiering in Manchester on the 4th May 2019 followed by, Cardiff and Coventry the show promises to deliver an unexpected, unscripted and unforgettable experience for the whole family. The world-famous trucks provide entertainment that promises to keep you on the edge of your seats and filled with adrenaline charged excitement. The Monster Jam event will deliver spontaneous live motor sports action for fans across the country. Claire Ballard from Monster Jam commented "We are so excited that the first ever Monster Jam tour coming to the UK for fans to experience a show like no other. The audience will be amazed by the skills our world class athletes - you will never forget the first time you saw a Monster Jam truck fly across the air."
These world-class athletes have mastered not just the physical strength and mental stamina required to compete but also the crucial dexterity to navigate these 12,000 pound machines to amaze audiences with wheelies, donuts, cross ups and big air stunts. Some amazing Monster Jam facts include:
Monster Jam trucks stand 12-feet tall and 10-feet wide, sitting atop 66-inch-tall tires and weighing a minimum of 12,000 pounds.
1,500 to 2,000 horsepower is generated by these larger than life trucks that are capable of speeds of up to 70 miles per hour.
They can fly up to 125 to 130 feet in distance and up to 35 feet in the air
A Monster Jam truck engine burns up to 9.5 litres of methanol per run
Some custom designed trucks require more than 40 hours of paint time
The average Monster Jam truck team will go through eight tires in one year
Tires are 1.7m high by 1.1 wide
It takes 1,500 man hours to build and remove a track
113 litres of paint are used to paint the track and obstacles
If that wasn't enough the 'Pit Party' allows fans to meet their favourite drivers, get up close to the Monster Jam trucks and participate in activities including autograph signings and much more.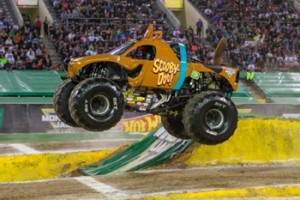 ---
Monster Jam will be playing at:
Manchester Arena 4thand 5th May 2019
Principality Stadium, Cardiff 18thMay 2019
Coventry Ricoh Arena 8thJune 2019
To find out more about Monster Jam or to book tickets, visit www.monsterjam.co.uk If you can't wait till the 4th may, stay up to date on the latest developments through social media by visiting: