Read More News
Ideas Are Everywhere! Get creative outdoors this summer.
Sudocrem are working with artists across the country, including local Suffolk artist, Joy Pirkle, to encourage children to step away from their screens this summer and get creative outdoors!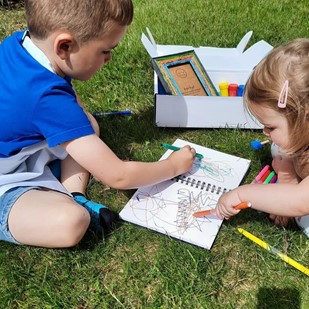 Ideas come in all shapes and sizes. A cloud shaped like a dinosaur, a tree that seems to glow in the dark or shells picked up on a beach. My Little Masterpiece is Sudocrem's new campaign to get children outside and boost their creativity. 
Sudocrem is passionate about encouraging families to lead healthier lifestyles and believe that inspiring children to discover the natural world means they will appreciate it more and discover more about themselves. That's why they've created My Little Masterpiece, a project supported by artists from Barbados to Brighton which aims to inspire creativity in children and to show them that inspiration can be found everywhere they look.
Sudocrem have teamed up with some wonderful artists to provide ideas for art projects that require nothing more than stepping outside – because ideas are everywhere! With the help of artists like Eliza Southwood, Joy Pirkle, Lucy Cran and Bill Leslie, they're going to help children to create their own little masterpieces, give away lots of special art kits and provide schools with hundreds of brushes and pots of paint.
Check out Sudocrem's School of Art hub on their website. You'll find handy how-to guides with step-by-step instructions and reels from the artists – everything you need to get inspired and light your creative spark!
Head over to www.sudocrem.co.uk/my-little-masterpiece/ideas-are-everywhere to submit your little one's Little Masterpiece entries for a chance to win a £500 LovetoShop holiday voucher, £250 worth of craft prizes, a 12-month supply of My Little Sudocrem and the chance to have your little one's art on pots of My Little Sudocrem in 2023! Use the hashtag #IdeasAreEverywhere to share your creations on social media. It can be a collage, painting, drawing or anything creative – just have fun!
Nick Lang, Head of UK & IE OTC marketing at Sudocrem says, "Sudocrem is passionate about encouraging families to lead healthier lifestyle and art is not only great for boosting creativity but it's also really soothing."