Read More News
Subscribe to the NEW Lockdown Activity Guide
We've been getting loads of great feedback about our searchable listings of online baby and toddler classes - but many of you have told us how much you miss having a physical copy of the Toddle About magazine to flick through and enjoy.
Sadly, we're not able to bring the magazine back in all its glory just yet - but we have the next best thing for you!
Announcing the launch of Toddle About's Lockdown Activity Guide
During the Coronavirus Crisis, Toddle About will be publishing a Printable Lockdown Activity Guide for families with under 5s, with the first edition being released on Monday 1st June 2020. And it's FREE to subscribe!
Subscribe to the Lockdown Guide
With social distancing measures in place, online classes and events are an important part of keeping the family entertained (and sane!)
And, frankly, nothing beats flicking through a printed directory or magazine to see what's on offer and get some inspiration.
So we're compiling a PRINTABLE Lockdown Activity Guide that tells you about all the wonderful things that are on offer for little ones now online.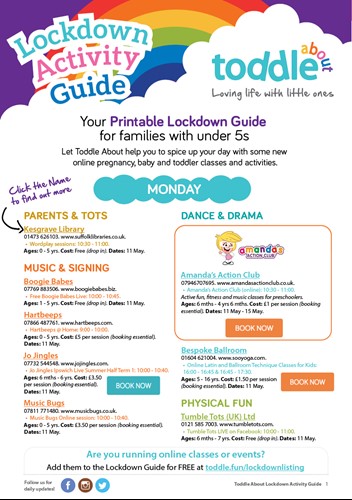 What does the Guide look like?
The format of the Lockdown Guide will be familiar to Toddle About readers, as it is very similar to the Daily Activity Planner in the 'normal' Toddle About magazine.
The bulk of the Guide will be day-by-day listings, showing what's on for little ones during the lockdown each day. The sessions on each day are broken down into categories, such as Music, Dance, Development etc. to make it easier for parents to browse. You can see an example here.
The Format
The Lockdown Activity Guide will be downloadable as a PDF so that you can print it out at home - then you can pick it up and browse what's on, quickly find an activity for right, or plan your family entertainment for the week ahead.
The design of the Guide also makes it easy for you to browse on your phone, tablet or laptop too, if you are unable to print it off.
View and print an example of the Guide PDF here
Ideal for online browsing, the Guide is full of links, so it's super-easy for you to find out more about a particular class or event. You will even be able to book through Toddle About, where businesses have activated that option.
A new and updated Lockdown Activity Guide will be released every two weeks, starting 1st June 20290, and we will email it to everyone who subscribes to it.
Subscribe to the Lockdown Guide
Businesses and groups! Find out how to get your online sessions in The Lockdown Activity Guide for FREE.
Subscribe Today - Complete the form below:
Can't see the form? Click here to open the form in a new window.