Read More News
Storybook Easing Covid-19 Anxiety For 3 To 8 Year Olds Supports NHS Together
'Covi, The Little Green Dinosaur' rhyming picture book eases anxiety in 3 to 8-year-old children
A COVID-19 children's storybook inspired by a Bedfordshire villager is now on sale raising vital funds for NHS Charities Together.
The brightly illustrated rhyming tale features a little girl who takes comfort in her friendship with a community dinosaur named COVI. It's based on the real-life antics of a Harlington, Bedfordshire resident, who disguised himself as a friendly dinosaur roaming village streets entertaining children early-on in lockdown.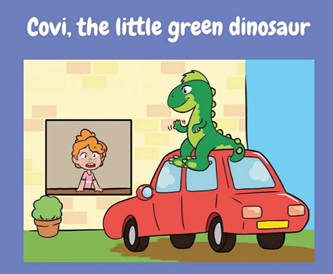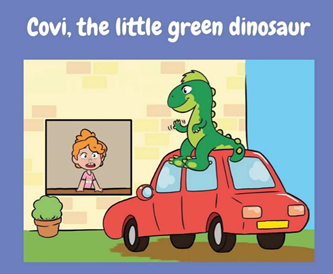 Aiming to ease the anxiety young children have been experiencing since the COVID-19 pandemic arose, the author Susie Cullen created the book so that 'COVI' could be with children at all times.
Susie teamed up with 19-year-old art student, Chay Winter and 10-year-old schoolgirl, Kaitlyn Powell, to create the enchanted tale 'COVI, The Little Green Dinosaur'.
Susie Cullen: "The term "Covid" has such negative connotations for little ones. It's a word they keep hearing that conjures up images of scary things outside the home. This book brings a friendly dinosaur with a similar name literally into children's bedrooms in the form of a bedtime storybook.
"I wrote the poem and posted on Facebook for volunteers to help me illustrate it. I've been overwhelmed by the response and enchanted by the designs that both Chay and Kaitlyn put forward.
"Other local children have also submitted their Covi drawings and these are included in the book, in the form of a collage, making it a real community effort!"
The book is available on Kindle for free and in print at Amazon for just £6.99. A portion of all profits go to NHS Charities Together.
A second book featuring 'Covi' is now in illustration and will be published to raise funds in aid of other frontline workers including bus, taxi and railway workers, retail and care working staff.
To buy the book, please visit https://www.amazon.co.uk/dp/B0876SYHRT.