Read More News
Spare Snacks Secures Major National Listings for Kid-Friendly Range, Scrapples Delicious Wonky Fruit Snacks: Good for People, Producers, and the Planet
St Albans based husband & wife (and mum & dad!) duo, Spare Snacks produce delicious, crunchy anytime snacks for all the family. Made from 100% whole fruit, the healthy and affordable range contains no added sugar, salt, fat or oil and a pack counts as one of your five a day. Spare believes snacks should taste good and do good, that's why they transform wonky apples into healthy crisps, so the more you snack, the less goes to waste.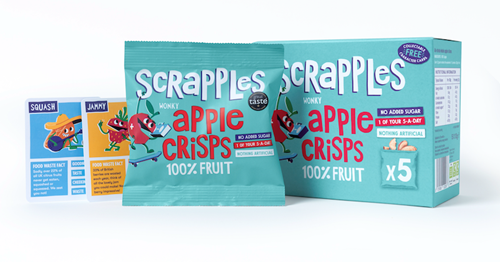 Having quickly become firm favourites on Ocado and Amazon, as well as an increasing number of schools and independent outlets, in 2021, Spare's kid-friendly range, Scrapples, is now launching into hundreds of supermarkets and schools, as well as on board British Airways flights. Having seen an increase in demand for healthy, sustainable snacks, Spare launched kid-friendly Scrapples Apple, Apple & Mango, and Apple & Strawberry Crisps. With eye-catching design, Scrapples come in at under 50 calories; they're high in fibre and mess-free, perfect for on-the-go healthy snacking or as a nourishing lunch box treat. Stocked by the UK's leading school caterer, Chartwell's, Scrapples is the healthiest kids fruit snack on the market.
July 2022 sees Scrapples launch to British Airways' Speedbird Café, just in time for the school holidays. The Scrapples range will also launch multipacks and single bags into major retail for the first time, rolling out across Morrisons and Co-Op stores around the country, as well as to Ocado, from the end of August 2022, in readiness for the new school year.
Over 930m tonnes of edible food is wasted globally each year; Spare makes use of both wonky raw and dried apples that are often rejected because they are misshapen, blemished, or deemed the wrong shape or size. The wonky apples are always fresh and delicious, they just happen to look a bit irregular; Spare transforms them into beautifully healthy, Great Taste Award-winning apple crisps that are good for people, producers, and the planet. Hence Spare's mantra: Waste Not, Want Lots!
Founder Ben Whitehead says, "We're so excited that our healthy and sustainable snacks are resonating with parents and buyers alike. Being able to bring Scrapples to the mass market across retail, schools and travel is an important milestone for us and comes at the perfect back-to-school moment. I can't stomach the fact that millions of tonnes of edible fruit and veg are wasted each year, whilst only 23% of us eat our five a day. That's why I started transforming surplus fruit into healthy snacks. Being able to bring Scrapples to Morrisons, Ocado and Co-Op shoppers and British Airways passengers is a step that will be welcomed by fellow parents as a handy, healthy, and mess-free option for keeping the kids fed and entertained, whilst our new Top Bumps character cards also give them a chance to chat about food sustainability in a fun way." 
Dimitry Onaka, a Co-op Buyer as part of its Community Buying Team and Incubator Programme, adds, "We are delighted to work with Spare Snacks, as one of the inaugural group of businesses participating in our incubator scheme they are an exciting and innovative producer with a real point of difference and something unique to excite shoppers. Our 'apiary' programme is designed to help anticipate and, respond to changing consumer tastes and needs, while mentoring and supporting local suppliers as part of our commitment to creating value and making a difference in our local communities – we are really looking forward to seeing their products on our shelves."