Read More News
Soltan Suncream Partners With Celebs to Create Imaginative Outdoor Play Pack for Children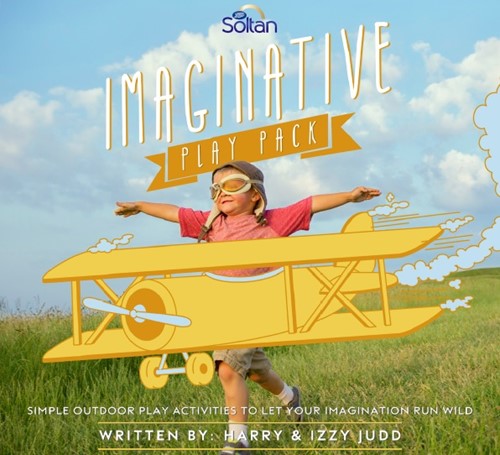 Figures released by Soltan show that British children are suffering from imagination lockdown- with over half of UK children (55%) now spending more time indoors than before lockdown¹ and 72% of parents running out of ideas to inspire their children's imaginations, it's no surprise that children aren't spending more than 30 minutes outside. That's why leading suncare brand Soltan has partnered with celebrity parents and authors, Harry & Izzy Judd and Psychologist, Emma Kenny to launch a campaign to inspire kids to get outside and take part in imaginative and creative play using Soltan's Imaginative Play Pack that's free to download on Boots.com.

The campaign comes following new research by Soltan which found:

• Over half of UK children (55%) are now spending more time indoors than before lockdown
• 61% of parents are now worried about the impact of lockdown on their children's emotional and creative development
• The nation's children have spent an average of 9 hours a day indoors, often in front of devices and screens for hours on end
• One in six (15%) parents struggling to get their children to play outside for more than 30 minutes at a time
• 72% of parents are running out of ideas to inspire their children's imagination
• 57% of parents report their child being happier when spending time outdoors
• A huge 96% saying that their child sleeps better when they spend a substantial amount of time outdoors
While we may not be travelling far from home at the moment, the pack aims to inspire kids to get outside, no matter what space they have access to, whether that's the back garden, the balcony or the local green space.

You can download the pack here.

Harry and Izzy Judd say "Our kids love playing outside, but it can be tricky to think of new ideas to keep them occupied, particularly in the current situation. We've loved creating this play pack with Soltan, which is full of simple ideas to fire up children's imaginations that parents can recreate anywhere."

"Creative play encourages kinaesthetic learning which is an effective way of children understanding the world around them, helping to foster resourcefulness and increase resilience. Being stuck in lockdown doesn't mean we have to stop nurturing imaginative and creative play, children should still be encouraged to play outside for at least 30 minutes a day." Psychologist Emma Kenny explains.