Read More News
Sip Your Way Through The Summer With Bendies
Bendies, the award-winning reusable silicone straws from SweetDreamers are set to be in all parents' cool bags this summer – protecting the planet and little ones' futures, one sip at a time!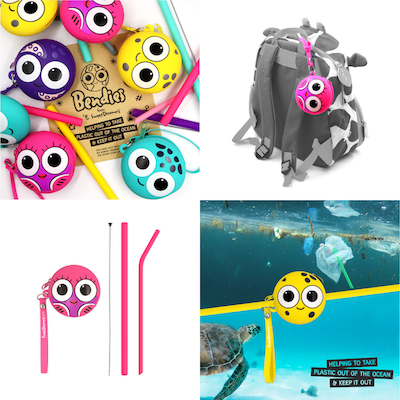 With picnics, beach trips and summer holidays very much on the horizon, Bendies are a true essential for families this season, helping to stop unnecessary waste and limit the consumption of single use plastic wherever you may be.
The fun range of straws come in an array of character pouches including Otto Octopus, Turtle Frank, Tilly Fish and Sylvester Sponge. Each cheeky pouch contains two reusable silicone straws for little ones to use time and time again. There is a chunky straw, perfect for cooling smoothies and milkshakes, as well as an angled thin straw for water or soft drinks. Made from food grade silicone, they are odourless, completely tasteless and 100% BPA free.
Once the straw has been used, unlike single use plastic, you can wash it, or pop it in the dishwasher and return it back to its handy zip up pouch ready for next time. The pouches also have a thoughtfully designed strap, to ensure parents and little ones alike can keep it on their favourite beach bag or rucksack so it's always there, wherever you go!
What's more, the brand donates a percentage of the profit towards The Ocean Clean Up,  the non-profit environmental organisation developing technology to extract plastic pollution before it can reach the ocean. Bendies fans can rest assured they are saving the planet in more ways than one!
Lynda Harding, Founder of SweetDreamers and creator of Bendies said:
"We are thrilled with how popular our Bendies straws have been.  As families become ever more aware of the actions they can take to save the planet, Bendies are a simple but important swap away from single use plastic any family can make. We all know little ones and adults alike love a straw,  Bendies provides the fun, without costing the earth.  Wherever you may be, the straws help keep your little ones hydrated, as well as being plastic free!"
RRP: £4.99 | Available from www.sweetdreamers.co.uk and Amazon UK