Read More News
Pinter & Martin to launch new parenting series 'Let's talk about…' in September 2020
Independent publisher Pinter & Martin, who specialise in pregnancy & birth, parenting and health titles, are to launch a new series of parenting guides from leading experts in the field.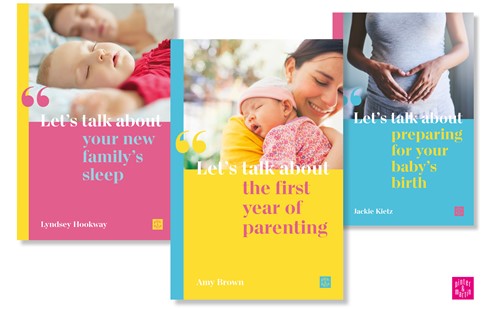 Let's talk about… aims to start a frank conversation with new and expectant parents, exploring the changes that affect them and their babies during pregnancy, birth and the early months of parenting.
The new series will launch with Let's talk about the first year of parenting by Amy Brown on 24th September 2020. Professor Brown is a leading infant feeding researcher at the Department of Public Health, Policy and Social Sciences at Swansea University and author of four popular parenting guides published by Pinter & Martin, including The Positive Breastfeeding Book (2018).
This will be followed in October with Let's talk about preparing for your baby's birth by antenatal teacher and hypnobirthing practitioner Jackie Kietz, and Let's talk about your new family's sleep by paediatric nurse and holistic sleep coach Lindsey Hookway.
Firmly rooted in up-to-date evidence, and written by authors with a wealth of experience, the Let's talk about… series will focus on how becoming a family affects parents: not just in practical ways, like sleep, work and time for themselves, but in emotional ways too, with changing relationships and an altered sense of self. 
Martin Wagner, Managing Director at Pinter & Martin says, "Let's talk about… books acknowledge that often there are no easy answers, and that part of the work – and joy – of parenting lies in finding your own path. By initiating conversations with parents about normal parent and infant behaviour, the reality of life in the 21st century and where and how we get our ideas about what parenting means, the series informs and empowers readers to make decisions about the kind of parents they want to be."
With clear, conversational text, and no underlying 'agenda', the books will be indispensable for those starting out on their parenting journey.
The series will be published in paperback original format priced £15.00. Pinter & Martin plan to publish three new titles in the series each year.