Read More News
Navigating the school parent WhatsApp group chat
Take time to fact check what is being said and shared in group chats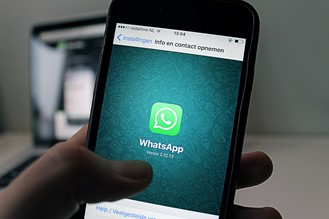 To avoid inadvertently spreading COVID-19 misinformation it's important to understand which messages have been forwarded to you, rather than being written by your friend. To avoid sharing misinformation, look out for these handy tips to help you: 
Look out for the 'Highly Forwarded' double arrow label, which is automatically attached to messages that have been previously forwarded five times or more. These messages have most likely originated outside of your friendship group and should be treated with caution, and fact checked before sharing. Note: a 'Highly Forwarded' message can now only be sent to one chat at a time. 


To fact check your own messages, WhatsApp's is piloting a 'Search the Web' feature, which allows users to search the text from a 'Highly Forwarded message' in Google Search. Simply click on the magnifying glass icon next to a highly forwarded message, and search the text contents online, to see if something you have been shared is true. 


Get your information from reputable sources. WhatsApp has partnered with the World Health Organisation, national health ministries and the International Fact-Checking Network to set up coronavirus information services which have the latest official information on the virus. 
Voice notes for when parenting gets in the way
Everyone knows that parenting is a full-time job, and with the majority of children being at home since March, multitasking skills have been tested to the limit. Voice notes are a time-saving godsend, saving you the precious minutes that it takes to type out a longer message when you're in a hurry.. 
Sending a voice note is easy – just touch the microphone icon to start, and if you don't want to have to hold the button, swipe upwards on the microphone icon, which will allow you to remove your finger and continue recording hands-free. Just press the send button when you have finished. 
Video calls for up to eight people for discussing more sensitive issues
Linguists regularly highlight how written messages don't always land their desired goal – and in particular if you are a serial 'full stop' user. For those times where a face to face discussion is best, make use of a WhatsApp Video call. All calls (and messages) are end-to-end encrypted on WhatsApp, so it's perfect for any sensitive conversations. You can now speak with up to eight people, up from four thanks to a product update this year.
To start a group call, simply press the video camera logo in your WhatsApp Group chat and pick the people you'd like to speak with.
Muting notifications temporarily when you need a breather
Muting a busy WhatsApp group is ideal for those moments of respite; to process all the information shared, and to make a decision that best suits you and your child. Group chats can be muted for 8 hours or longer if you wish.
To mute a chat, swipe the group to the left in the Chats tab. Then tap More … > Mute > and choose how long you would like to mute it for.