Read More News
Movie director set to wow Woodbridge this Halloween
A group of filmmakers are building an immersive Halloween trail for little witches and wizards in Woodbridge this October.
The team at Fresh Air Events, which include a Netflix movie director who has worked on award-winning films and music videos, are creating a "family-friendly" experience in Seckford Hills, right next to Seckford Hall Hotel.
The event – Halloween on the Hills – will involve special effects, holograms, movie like sets and projectors as well as a host of spooky props to bring "modern magic" to a trail of shacks set up within the 34-acre parkland.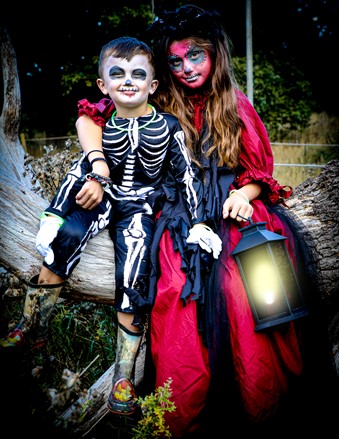 A cast of monster models are also being built for the occasion.
A spokesman for Fresh Air Events said: "Using a one-way immersive experience, we want to take people on a family-friendly adventure they will never forget. They will meet some playful pumpkins, Dracula's tunnel, Halloween monsters as big as the trees, plus toast marshmallows with a coven of witches and chant spells round a bubbling cauldron. 
"This is unlike other Halloween events simply because we will explore the modern magic of special effects that movie directors usually use on the big screen. It will feel like you are part of the scene, part of the action and really engaged with what is going on in every area we create.
"To make this as inclusive as possible, we aim for spooky rather than terrifying, fun rather than frightening and as spell-binding as possible."
Fresh Air Events are experienced with creating some of the most incredible immersive events in the UK.
This summer they hosted an open-air cinema at Seckford Hills that included a sing-along version of The Greatest Showman and a special screening of The Dig.
Before the pandemic started, their House of Horror in Brentwood, Essex, sold out after they created 13 themed room experiences which ranged from the child-friendly to extreme horror that involved the signing of a waiver.
The event was so popular that it became the backdrop for the Halloween episode of The Only Way is Essex which saw the entire cast dress up to escape from one of the most challenging rooms in a one-hour episode of jump scares.
The Woodbridge event is suitable for children of all ages and is set to run evenings and weekends throughout October and every day throughout half term.
It will be open from 4-7pm on October 15 and October 18-22. On October 16-17, October 23-24 and October 25-31, ticket slots will be available from 10am-7pm. Children are encouraged to dress up.
Tickets will cost just £6.50 per person and under twos go free. Tickets will be available in entry slots to avoid over-crowding. Booking is advised, especially for half term week.
To register your interest or book tickets to any Fresh Air Events visit www.freshaireventsuk.com
Also join the Facebook and Instagram pages, Fresh Air Events or Seckford Hills, for regular updates on what is coming up.