Read More News
Lucia's World - the app to get kids off apps?
New app Lucia's World has now launched turning children's education on its head by encouraging children and their parents to explore technology together in a mindful way. The app even comes with a 'screen time alarm'.
Free to download, Lucia's World has been launched by Matmi Educate after 18 months of dedicated development. Covid19 has seen the launch brought forward, as it is perfect accompaniment to make home schooling fun. With the current pandemic seeing more mobile app downloads by kids than ever before, many parents and carers may be encountering 'screen time guilt' as they try to find quick alternative, constructive and creative learning opportunities for their children. Lucia's World aims to help restore a healthy balance between digital and real world learning opportunities.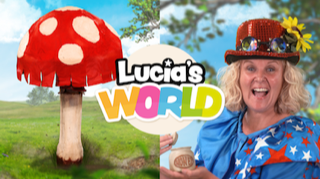 Lucia Davies comments "I created this app to try to bring back the magic to home education and entertainment.  Many parents are now starting to feel a sense of lethargy about home education, as we have been isolating for so long now and as a parent I sometimes feel this too. This is why this app is perfectly timed to help bring the magic back with lots of fun and creative ideas to help families when they need it most."
Lucia's World feels like an interactive TV show, which encourages kids to use their creativity and develop language skills with positive lessons on mindfulness and wellbeing. In it, children are guided through ways to help Lucia finish stories with drawings and decide whether the story should be read, sang – or even rapped! Its creation is the result of collaboration between Matmi, winner of a variety of industry awards for educational apps, and Lucia Davies, children's author and renowned entertainer.  Lucia strongly believes in child led learning and that education shouldn't be boring.
Lucia explains "The first story in the app is called "I can be" and helps children to build self-belief and confidence something that children may need help with when they finally return to a school environment after months in isolation.
"Children are becoming more reliant on technology for problem solving, socialising and entertainment. It's imperative that children and their families spend quality time with one another in the real world and not too often in cyberspace." 
Jeff Coghlan, Managing Director at Matmi explains "Technology should enhance our lives, not control them, throughout the app we continuously inspire children to explore the world around them through completing fun and educational activities."
Back in the '80's, 'Why don't you' was a TV show that encouraged kids to reduce the amount of time spent in front of the TV screen. 40 years on, our app continues to support this belief.
Lucia's World can be downloaded free from the App Store and
Google Play Store here.