Read More News
Local businesses in Bucks & Oxon Takes Top Spot in the Muddy Stilettos Awards 2021
A raft of Bucks and Oxon based businesses have won hotly contested Muddy Stilettos 2021 Awards, celebrating fantastic local indie businesses across Buckinghamshire and Oxfordshire.
Readers of the award-winning Muddy Stilettos lifestyle website (https://muddystilettos.co.uk) have been nominating and voting in their hundreds of thousands for their favourite independent businesses across 27 different lifestyle categories – from Best Destination Pub to Yoga/Pilates Studio, Boutique Stay to Wedding Venue – and shining a light on the most creative, unique indie businesses. 75,000 businesses were nominated across the country with 752,000 votes cast in total as part of this much coveted national lifestyle awards, making it the most popular Muddy Awards to date.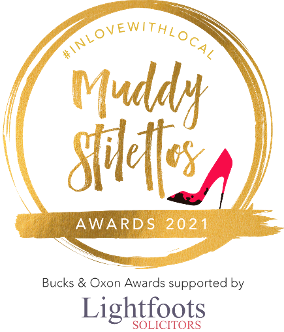 Free to enter, all the winners of Bucks & Oxon Awards have been announced here https://bucksoxon.muddystilettos.co.uk/awards/winners/
The list of Bucks & Oxon Winners:
NORTH BUCKS
WEDDING VENUE:The Tythe Barn – Launton
MID BUCKS
CAFÉ:Front Room (Wycombe)
HAIR SALON:Unit Hair (Long Crendon)
INTERIORS STORE:Thomas Tyrell (Prestwood)
FITNESS INSTRUCTOR:James Griffiths (Wycombe)
NEW COVID BIZ :Rockfall Rum (Long Crendon)
SOUTH BUCKS
BRIDAL STORE –White Lace and Butterflies (Great Missenden)
BEAUTY SALON:Oasis (Great Missenden)
DAY SPA:Bodhi Tree Spa (Chalfont St Peter)
DESTINATION PUB:Royal Oak, Bovington (Marlow)
FARM SHOP/DELI:Kitchen Larder (Chalfont St Giles)
GIFT SHOP:Annie's (Great Missenden)
WOMEN'S FASHION STORE:Vintage & Vogue (Beaconsfield)
RESTAURANT:The Greyhound Inn (Beaconsfield)
NORTH OXON
ART GALLERY:Darl-E and the Bear (Woodstock)
FAMILY ATTRACTION:Blenheim Palace (Woodstock)
GARDEN DESIGNER:Nicholsons (North Aston)
BOUTIQUE STAY:The Lamb (Burford)
MID OXON
JEWELLERY STORE:Charlotte Berry (Oxford)
SOUTH OXON
BAR:Tipsy Mercer (Abingdon)
BOOKSHOP:Mostly Books (Abingdon)
LOCAL PRODUCER (FOOD/DRINK):Nettlebed Creamery (Nettlebed)
PHOTOGRAPHER:Devine Times (Abingdon)
FLORIST:The F Word (Wallingford)
CHILDREN'S BUSINESS:Mrs Bun (Wallingford)
YOGA/PILATES INSTRUCTOR:Santosha (Wallingford)
Voted by Muddy readers, the Muddy Stilettos Awards always create a real sense of community spirit and goodwill – they're a great way for locals to say 'Thank you' for what has been an incredibly difficult past 18 months for many small businesses.
Hero Brown, founder and Editor-in-chief of Muddy Stilettosadds: "I set up these awards eight years ago to give local lifestyle businesses a chance to shout about how brilliant they are. After a year of multiple lockdowns and hardships, it's been an honour to showcase the most awesome lifestyle businesses across Buckinghamshire & Oxfordshire, in partnership with our local sponsor Lightfoots Solicitors. The response to this year's Muddy Awards has been unprecedented – thousands (and thousands) of people voted giving such a fantastic boost and a well-deserved pat on the back to so many.I hope it will make give them greater confidence to grow their business, knowing that they have the stamp of quality that the Awards provide."
The full list of Muddy Awards 2021 Winners is available at https://muddystilettos.co.uk/awards/