Read More News
Kunda Kids, a black-owned publishing company dedicated to educating children about African history and culture, launches their latest collection
Kunda Kids, a black-owned publishing company dedicated to educating children about African history and culture, will be launching their latest collection 'Africa's Little Kings & Queens' on Thursday 17th December 2020.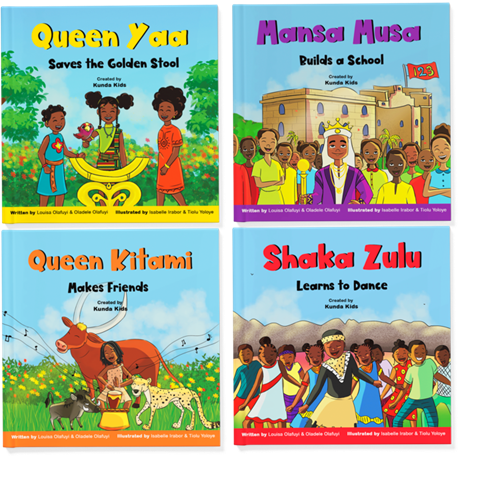 The Africa's Little Kings & Queens full collection is written by Founders and Authors of Kunda Kids, Dele & Louisa Olafuyi. These four colourfully illustrated, rhyming picture books are stories about influential figures from ancient African history, Queen Yaa, Mansa Musa, Queen Kitami and Shaka Zulu.
More details can be found at: www.kundakids.com
Suitable for children aged 3 – 8 years old, The Africa's Little Kings & Queens Kunda Kids collection is designed for reading to little-ones and great for those learning to read independently.
Just 13% of the 2020 UK Publishers Association Study respondents identified as an ethnic minority. Diversity needs improving in the Publishing Industry.
The UK Publishers Association Study has set a target to reach at least 15% of ethnic minorities in the publishing industry from their study.
Kunda Kids was established by married couple Dele and Louisa Olafuyi after failing to find modern, informative and fun content for their son about Africa's ancient history. So, they decided to make their own, and champion the creation of informative and entertaining content and media for children.
The full collection is available to purchase here. 
Credits:
The Africa's Little Kings & Queens full collection is:
Written by Louisa Olafuyi (Ugandan) & Oladele Olafuyi (Nigerian)
Edited by children's book editor and novelist Krystle Appiah (Ghanaian)
Artwork by Nigerian Illustrators Isabelle Irabor and Tiolu Yoloye