Read More News
Home-Start South Warwickshire Launch Partnership with Childrens Play Village
The hugely popular Children's Play Village in Warwick and the locally based charity Home-Start South Warwickshire, who support families with young children through challenging times, have announced a partnership to work together.
The Children's Play Village were keen to support a local charity that reflected their own values and beliefs around the importance of learning through play and increasing the opportunities to access play. Play is one of the main ways in which children learn and develop. Role play games especially can help a child make sense of the world and aid in their emotional and physical development.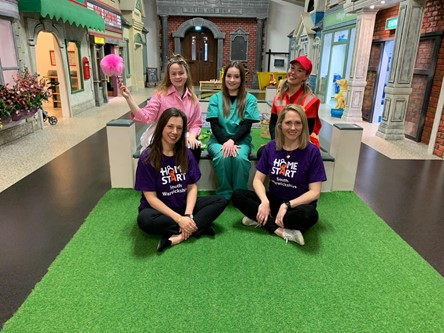 The partnership will see The Children's Play Village host a special themed events with proceeds going to support Home-Start's work in South-Warwickshire. They will also host a number of the family groups and get togethers that Home-Start South Warwickshire plans throughout the year, including their popular PEEP courses that promote early childhood development techniques and support parents and children to learn together.
Co-founder and Director of The Children's Play Village Shelley Corbett said:
"We are thrilled to be putting our energy and time into something we feel is incredibly important, an We admire and salute Home Start South Warwickshire for the work they do every day to support families at a point in their life when the stresses and strains are a little overwhelming. The tight knit local community of Home-Start South Warwickshire superhero volunteers put on their capes each day, get out into their community and bring their positive presence and support into the homes of families that have hit a bump in the road. They are making difference to a parent and child's life at a time when they need it the most.
We are very proud to be supporting Home Start South Warwickshire with their fundraising efforts, the bloodline of any charity, along with helping children and families access play when they may not otherwise have the opportunity to do so. Supporting a charity who can reach children who too feel the impact of their parents struggles, make a positive impact on their life with small acts of kindness and help them grow and thrive is very important to us."
Registered in 2019, Home-Start South Warwickshire supports vulnerable and isolated families throughout South Warwickshire – including those living in extreme poverty, dealing with mental ill-health, living with disability or experiencing domestic violence.
Every day, through small acts of kindness and understanding, our volunteers support struggling parents to help them cope with stresses and strains of life, ensuring they have the skills, confidence and strength they need to nurture their children. All the families we support have at least one child under the age of six; whether parents need practical support, expert advice on child development or simply a friend to talk to, our volunteers, all parents themselves, make the world of difference.
Ted Tuthill, Charity Operations Manager at Home-Start South Warwickshire said:
"The Children's Play Village is such an imaginative and stimulating environment and the model of play it promotes is so important for positive child development. We are absolutely delighted to be able to partner with The Children's Play Village to support vulnerable families in South Warwickshire to access such wonderful developmental resources."