Read More News
Heinz Baby Food Recycling Revolution
Heinz set to revolutionise sustainability in baby food with launch of UK's first easily recyclable pouch 
HEINZ TO LAUNCH THE UK'S FIRST KERBSIDE RECYCLABLE BABY FOOD POUCH THAT CAN BE DISPOSED OF IN REGULAR RECYCLING COLLECTIONS
THIS GAME-CHANGING SUSTAINABILITY INNOVATION BY HEINZ FOR BABY IN PARTNERSHIP WITH TESCO IS SET TO ADDRESS PARENTAL CONCERNS AROUND SUSTAINABILITY BY MAKING 2.8M HEINZ POUCHES RECYCLABLE AND SAVING NEARLY 20 TONNES OF HEINZ FOR BABY FRUIT POUCH PLASTIC

[1] 

FROM LANDFILL EVERY YEAR
LAUNCH IS PART OF HEINZ'S PLEDGE TO AIM TO MAKE 100% OF ITS PACKAGING RECYCLABLE, REUSABLE OR COMPOSTABLE BY 2025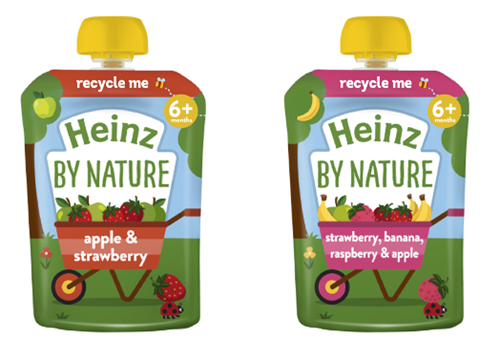 Heinz has announced today that it is set to revolutionise recycling and sustainability in UK baby food with the launch of the UK's first kerbside recyclable baby food pouch, which for the first time can be disposed of in regular recycling collections. The launch, made possible through collaboration with Tesco's technical team and recycling charity RECOUP, is predicted to make 2.8m Heinz for Baby fruit pouches easily recyclable and save nearly 20 tonnes of plastic from Heinz for Baby fruit pouches going to landfill every year[1].
Being made entirely from polypropylene, a fully recyclable material, it's the first baby food pouch to be truly recyclable and has been assessed by On-Pack Recycling Label (OPRL) as meeting the requirements of their 'Recycle' designation, which means each pack will feature the familiar OPRL label to guide and reassure parents.
Heinz for Baby plans to roll the scheme out across all six of its popular fruit pouch varieties in 2022. This is in line with the company's mission to remove plastic where possible and its aim to make 100% of its packaging recyclable, reusable or compostable by 2025.
In recent years baby food pouches have become the most popular packaging for baby food in the UK, with nearly a third of all baby food sold in the format[2]. However, baby food pouches, while being convenient and keeping food safe for tiny tums, can be tough to recycle.
While some baby food pouches can be recycled by being posted or transported to dedicated collection points using third party services, Heinz for Baby is leading the way by announcing the first kerbside recyclable baby food pouch that can be simply and conveniently added to regular recycling collections once used. That's good news for parents, as recent figures show that the environment tops the priority list for parents of little ones: research by Netmums[3] has found that the environment comes a close second to children's mental health, diet and fitness as a priority for parents, while two thirds of parents (66%) said they wished brands and retailers made it easier to purchase sustainably and ethically.
Jojo de Noronha, President Northern Europe at Kraft Heinz, commented: "We're very proud to be the first name in baby food to announce the UK's first kerbside recyclable pouch and help families be more sustainable, because we know this is vert important to them. Until now it's not been possible to take a sustainable approach when it comes to baby food in pouches, but all that is set to change, and we are delighted to now be able to offer parents of little ones the convenience coupled with sustainability they always wanted! This is another important step in the Heinz pledge to aim to make 100% of our packaging recyclable, reusable or compostable by 2025."
Denise Mathieson, Packaging Manager at Tesco, said: "We're proud to have worked with Heinz to make it easy for our customers to recycle these pouches. Collaborations like this support our strategy to remove and reduce plastic and help customers to reuse more and recycle everything that's left. Our customers expect to be able to recycle all packaging and we are working with brands and partners across the industry to make this happen."
Jane Bevis, Executive Chair at OPRL Ltd, said "People want to do the right thing but need help from businesses and government to make it easy for them. This innovative approach to re-designing baby food packaging and working with retailers to provide additional recycling points is exactly what's needed to accelerate the journey to more sustainable packaging. We're delighted these Heinz for Baby pouches will be easily recyclable, accepted in home recycling and will carry our 'Recycle – Cap On' labels."
As part of its sustainability journey Heinz has decided to remove the plastic scoops from all Heinz for Baby Cereal Tubs, which will help to reduce plastic by almost 10 tonnes a year, and has updated the on-pack instructions to provide an easy guide for parents to prepare the right portion size for their little ones.
Heinz is also working on broader sustainability initiatives, such as a partnership with waste-free online shop Loop to collect, clean and refill used Heinz Tomato Ketchup glass bottles and delivering its first circular Tomato Ketchup squeezy bottle to the market this year, a year ahead of plan.
[1] Based on 2020 Heinz for Baby UK fruit pouch sale
[2] IRI All Outlets GB incl Chemists, 52 weeks Value Sales to 22ndMay 2021
[3] Net Mums – Families Refocused Insights (April 2021)