Read More News
Gloworm Festival receives lifeline grant from Government's £1.57bn Culture Recovery Fund
Gloworm Festival has been awarded £70,000 as part of the Government's £1.57 billion Culture Recovery Fund (CRF) to help face the challenges of the coronavirus pandemic and to ensure they have a sustainable future, the Culture Secretary has announced today.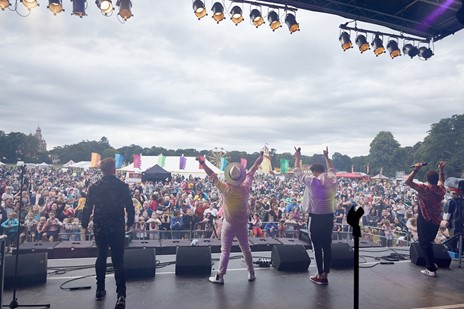 Gloworm Events Ltd is one of 1,385 cultural and creative organisations across the country receiving urgently needed support. £257 million of investment has been announced today as part of the very first round of the Culture Recovery Fund grants programme being administered by Arts Council England. Further rounds of funding in the cultural and heritage sector are due to be announced over the coming weeks.
The Gloworm Festival is a brilliant family festival nestled in the gloriously green Thoresby Park, Nottinghamshire. The festival has been a firm favourite with families from all over the UK since 2016 and 2020 should have been the festivals fifth birthday celebration, but unfortunately it was unable to take place due to the global pandemic.
Gloworm has always strived to provide families with a weekend full to the brim with art and experiences that they wouldn't necessarily get the opportunity to enjoy in their 'normal' day to day lives. From theatre to live music, dance workshops to cookery, there has always been something for little and big people to try at the Gloworm Festival.
Receiving this grant has undoubtedly had a positive effect on the Gloworm Festival.
The funding will also allow the festival to reach more families and give more children the opportunity to play in a safe and creative environment. The Gloworm team have a number of small outreach projects in the pipeline and more information about these projects will be released soon. 
Gloworm 2021 is ready to return next year, bigger and better than ever before, with the likes of N-Trance, Dr Ranj, Andy and the Odd Socks, Bez, Twist and Pulse, The Lancashire Hotpots, Cbeebies already announced. There has never been a better time to be excited about 2021!
BUY YOUR TICKETS BY CLIKCING HERE: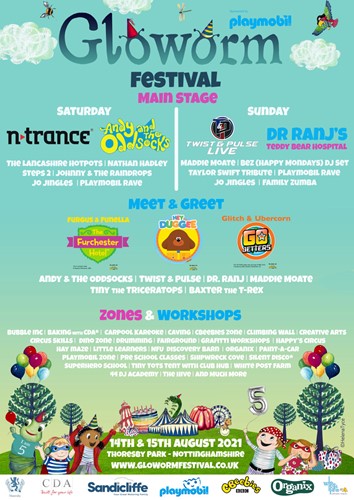 Culture Secretary Oliver Dowden said:
"This funding is a vital boost for the theatres, music venues, museums and cultural organisations that form the soul of our nation. It will protect these special places, save jobs and help the culture sector's recovery. 
"These places and projects are cultural beacons the length and breadth of the country. This unprecedented investment in the arts is proof this government is here for culture, with further support to come in the days and weeks ahead so that the culture sector can bounce back strongly."
Chair, Arts Council England, Sir Nicholas Serota, said:
"Theatres, museums, galleries, dance companies and music venues bring joy to people and life to our cities, towns and villages. This life-changing funding will save thousands of cultural spaces loved by local communities and international audiences. Further funding is still to be announced and we are working hard to support our sector during these challenging times."
Richard Walpole – Festival Director said: We are incredibly happy to receive part of the Culture Recovery Fund Grant from the Government. This grant will ensure Gloworm's survival during these very difficult times and gives us the confidence to resume planning our return in 2021. The UK's arts and culture sector is world class and has seen a vast amount of talent develop year on year, so it's reassuring to see the Government has recognised the need to protect our sector and assist with our return.