Read More News
Free online Boogie Babes sessions from the comfort & safety of your home
Written by Luan Hockley at Boogie Babes Newmarket
Join in with FREE online interactive Boogie Babes sessions - 'Boogie Babes Live!' from the comfort & safety of your own home.
Boogie Babes is Music & Movement fun for all ages, full of action songs, props, wiggles and giggles!
We run 3 live sessions a week via the Facebook Page BoogieBabesNewmarket on Mondays at 10am, Wednesdays at 2pm and Fridays at 10am.
Online Birthday Parties are also available and 'Boogie Babes Bitesize', fun singalong videos, via the Boogie Babes Newmarket YouTube channel.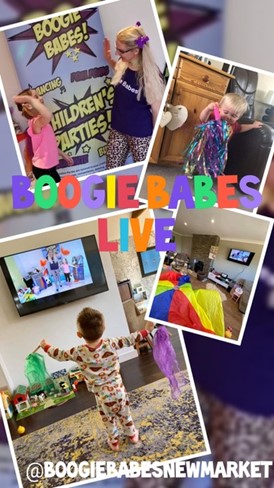 In such uncertain, stressful times, my aim is to still bring smiles to everyone, and for 45/50 minutes, just to immerse yourself, with your little ones!...And have lots of FUN.
My name is Luan (or Lu Lu to the children!) And I started Boogie Babes Newmarket nearly 2 years ago and up until recently, I was running 6 sessions per week including Pre-School visits, Care Home sessions and Boogie Babes Birthday Parties. This all ended overnight and I was left devastated. More so as I would miss seeing all my wonderful Boogie Babes. But I am determined to "Keep the Boogies going!"
I am asking those who can and would like to donate to support Boogie Babes Newmarket during these uncertain times, via the donation page. 
Thank you for all your continued support. Lets all shake our sillies out! Lu Lu x