Read More News
#EarlyDaysClub is going Live on 7th May 2020
WaterWipes Launches #EarlyDaysClub, A Virtual Support Network For Expectant And New Parents During Lockdown 
4th MAY 2020 - WaterWipes, the world's purest baby wipes, is launching #EarlyDaysClub – an honest and entertaining life-line for new and expecting parents during lockdown. 
Being a new parent is hard enough without a global pandemic but physical distancing doesn't mean you have to go without that precious support network. #EarlyDaysClub is all about providing that support network at a time when it may not be available. A place where there are no silly questions, myths are busted, taboos tackled, chaos embraced and questions answered by parents going through it, parents who've done it before and approachable healthcare professionals. Showing parents that despite current circumstances they are definitely not alone. 
As a member of the #EarlyDaysClub, parents will get support through readily available information on WaterWipes' social channels and invited to attend live events featuring a community of influential new parents and health care professionals. In the lead up to each live event, parents can send in their questions or topics of concern by heading to WaterWipes on Instagram or Facebook.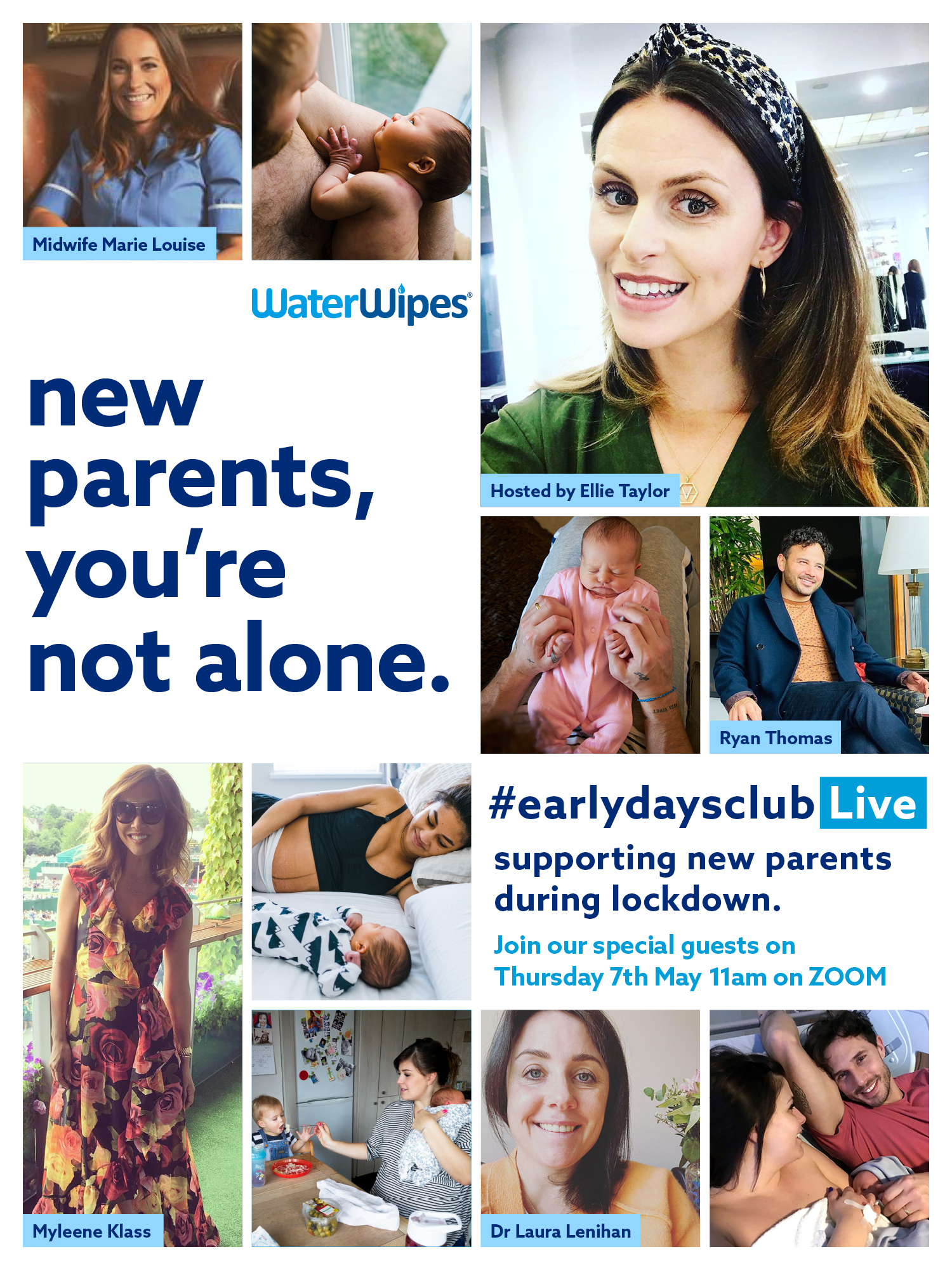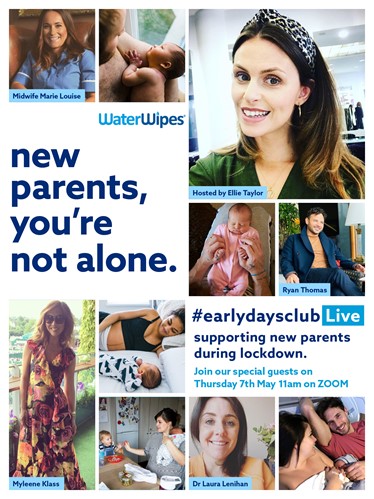 On May 7th, WaterWipes will host its first #EarlyDaysClub Live, a live panel event hosted by comedian and busy parent Ellie Taylor, bringing new and expecting parents together to have open and honest conversations about parenthood.  
Taking place at 2pm, parents will be able to tune in and have their questions answered on dealing with early parenting moments during COVID-19 by a star-studded parenting panel, including Myleene Klass, Ryan Thomas and health professionals Dr Laura Lenihan and midwife Marie Louise- both of which are currently expecting. 
Topics will include:  
Parenting in lockdown 

 

Having a newborn 

Newborn advice 

The importance of staying connected  
Comedian, Ellie Taylor, comments: "Becoming a parent for the first time is such an experience filled with emotions and my heart goes out to all new and expectant parents during this incredibly difficult time. With social distancing restrictions in place, many are finding themselves isolated from their support networks and suddenly navigating parenthood differently than they expected. It's time like these that support networks like the Early Days Club are so vital, and why I'm so pleased to be partnering with the WaterWipes family to bring more parents together and open up the conversation on parenthood." 
To attend, please go to the WaterWipes website on the 7th May at 2pm, link below.
https://www.waterwipes.com/uk/en/community/near-me/early-days-club 
_________________________
About WaterWipes  
WaterWipes, a global Irish brand, are the world's purest baby wipes made with only two ingredients, 99.9% water and a drop of fruit extract.  WaterWipes were created by a concerned father looking for a better baby wipe after discovering his new born suffered from nappy rash and sensitive skin. WaterWipes are one of the most well-known and loved baby wipe brands in Ireland and the UK. They are available in all major retailers.