Read More News
Discover the family music scene
Guest Post by Brady Rymer (Legendary Children's Singer-Songwriter from America)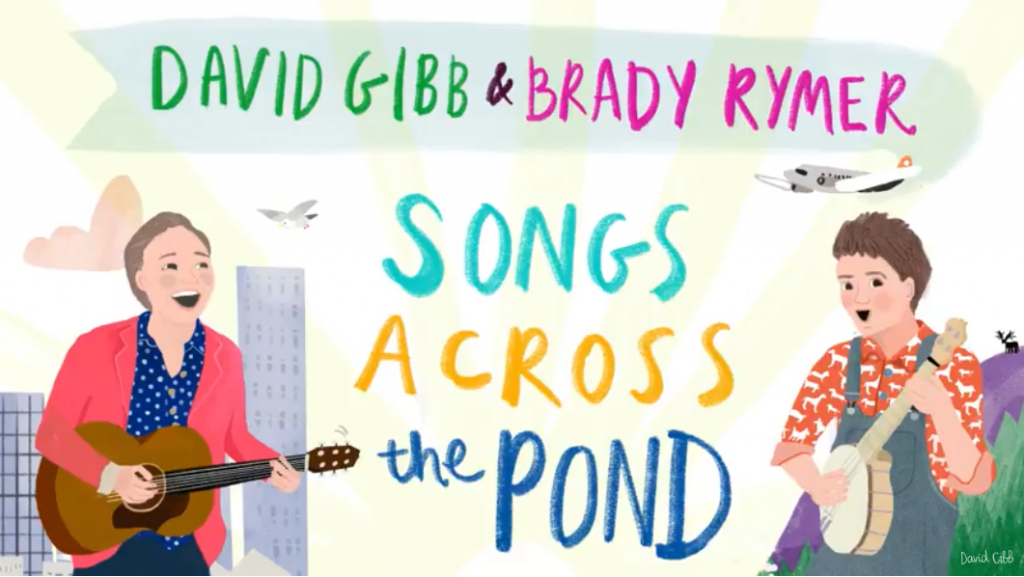 The American family music scene is cookin' these days, serving up a heaping helping of love, excitement and positively groovin' vibes with styles ranging from pop to hip hop, bluegrass to singer/songwriter and multilingual to punk. The musicianship and production of this current crop of music is top notch; the songs are creative, fresh, fun, educational and engaging.
The scene is flourishing and supportive of newcomers.  I love being part of something so infectious and appreciated - bringing joy and happiness to so many kids and families. At the time my rock band From Good Homes disbanded, following a long, adventurous and fruitful run in the 1990s, I was just starting a family. Steeped in new fatherhood, and this crazy new love for our son and the family we were creating, my songwriting turned from the usual rock 'n' roll topics to songs looking at the world through a child's eyes, songs about the great adventure of family life, and the experience of being a parent. Without making a deliberate career turn, I became a "children's artist." I recorded Good Morning, Gus, my first album in this genre, at home. Visiting our local bookstore to pitch my wares, I saw two albums on the counter: Laurie Berkner's Whaddya Think of That? and Dan Zanes' Rocket Ship Beach.
Those groundbreaking artists and albums opened the doors for contemporary children's music, and they helped me appreciate that music for children and families could be whatever we wanted it to be. This music could be smart, it could be soulful, it could groove! Later, digging into the archives, I discovered earlier artists that also guided my way: Woody Guthrie's songs for children, in particular, spoke to me in how simple, playful and honest they were. TRAILBLAZERS: Artists who produced some of the inspiring work I heard early on include: Laurie Berkner, Dan Zanes, Cathy Fink & Marcy Marxer, Justin Roberts, Ralph Covert, Woody Guthrie, Pete Seeger, Bill Harley, Raffi, Elizabeth Mitchell, Ella Jenkins, 50's & 60's rock n roll!  
Writing for children is liberating: the curiosity of a child means inspiration can come from anywhere, and anything has the potential to become a great song. That's a pretty exciting space to play in; as the children's genre grew, it's no wonder that many established "grown-up" groups joined the mix, bringing their unique styles and approaches to music for families. They really helped to expand and explode the genre. CROSSOVER ARTISTS: Check out: They Might Be Giants, The Barenaked Ladies, The Verve Pipe, Lisa Loeb, Caspar Babypants (Chris Ballew of Presidents of the United States), Ziggy Marley and Walter Martin of the Walkmen.  
The range of bands playing children's music today takes me back to being in my junior high school rock band; to a time when we were all clattering around in the garage, trying to find our sound. BANDS: Some great children's bands with distinct sounds and styles: The Not-Its!, Recess Monkey, Sugar Free Allstars, Lunch Money, Lucky Diaz and the Family Jam Band, Trout Fishing in America.   The scene has grown and diversified so much since I've been involved. Artists are taking chances, following personal paths, and exploring the genre. The Okee Dokee Brothers packed their guitars in a canoe and paddled down the Mississippi writing their GRAMMY winning album Can You Canoe? along the way. Thus, inventing the adventure album! 
Other artists are drawing on that adventurous spirit and creating beautiful, meaningful and unique work for families. MODERN ECLECTIC: There's so much to discover: The Okee Dokee Brother, The Pop-Ups, Jazzy Ash, Secret Agent 23 Skidoo, Gustafer Yellowgold, Lori Henriques, Sonia De Los Santos, Frances England, Andrew and Polly, Dean Jones, Red Yarn, Mr. G, Mike Phirman, Bari Koral & Kira Willey.  
There's a trend of brave, passionate artists pursuing personal, meaningful projects to do good. Here are few of those projects that you can support! BENEFIT PROJECTS DOING GOOD: Hold Tight Shine Bright – a project benefitting Refugees and Immigration Center for Education Legal Services (RAICES) Texas; Many Hands: Family Music For Haiti by Bill Child's label Spare the Rock Records. Check out all of their releases. Love Me For Who I Am is my own album inspired by the work I do with special needs children. The songs were all suggestions of students from Celebrate the Children School in New Jersey; Alastair Moock's Singing Our Way Through: Songs for the World's Bravest Kids, an album for kids "with (and without) cancer." And just released is the new jazz album Legion of Peace by The Lori Henriques Quintet collaborating with Nobel Peace Prize winner Muhammad Yunus. Each original song celebrates a different Nobel Laureate, from the extraordinary Malala Yousafzai to former US president Jimmy Carter.  
I can't wait for the Songs Across the Pond tour with David Gibb to begin in Oxford! I've been a fan of David's for a while now and I think he's a brilliant tunesmith. His songwriting, musicianship and spirit is inspiring and I've been having so much fun learning his music!  I think the fresh, exciting energy of us two joining together and contributing to each other's favorite songs (as well as writing a few for the tour) will make for a fantastically rocking performance full of singing, dancing, laughing and lots of musical surprises - between us, we'll be playing guitars, piano, bass, harmonicas & banjos! I'm looking forward to meeting his fans and introducing my music to them.
This is the kind of collaboration that is so nourishing for the kid's music scene - moving it forward in a rich and interesting way. I hope you all can join us on the tour – who knows what's gonna happen…? but it's gonna be a blast!   There are so many more great US artists that I didn't have space to mention. Listen to them all here on this big ol' American Kid's Music Spotify playlist. Enjoy!  
David Gibb & Brady Rymer's 'Songs Across The Pond' Tour
David Gibb has teamed up with three-time Children's Grammy Nominee Brady Rymer to bring an exciting new family music collaboration to the UK!
2018 Tour Dates
19 October The Story Museum, Oxford
20 October Half Moon Theatre, London
21 October Farnham Maltings, Surrey
22 October Highfields Community Centre, Cockermouth
23 October Ormskirk Library, Ormskirk
24 October The Met, Bury
26 October Rawtenstall Library, Rossendale
27 October Lostock Hall Library, Lostock Hall
28 October The Citadel, Waterloo Street, St Helens, WA10 1PX