Read More News
Number of UK Dads Attending Baby Groups Online Soars During Lockdown
Lockdown Brings Mental Wellbeing Benefits for Dads Across the UK as Record Numbers Sign Up to Weekly Online Baby Groups
Baby Sensory sees exponential growth in the number of fathers now attending its classes with their babies since the pandemic.
23 June 2020 – Popular nationwide, baby group franchise, Baby Sensory has seen a dramatic rise in the number of father's now attending its online sessions since lockdown began.  Prior to the pandemic, the weekly attendance of its sensory classes were predominantly attended by mothers, yet lockdown seems to have been responsible for many more dads enjoying time together with their babies.  Baby Sensory sessions promote infant wellbeing and aid early development.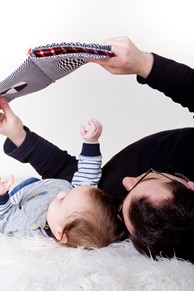 While Covid19 and lockdown have undeniably put pressure on parents and families, it has also offered benefits to baby with perfect conditions for the most intense physical closeness and the presence of father's being at home, offers huge benefits to a baby's development.
With around 10% of new fathers reported to suffer from postnatal depression, founder of Baby Sensory, Dr Lin Day, sees the presence of both fathers and mothers in the home together during lockdown, as a positive opportunity for babies and also to parent mental health.
She reports, "Men are just as important as women in a child's life and just as capable. Their interest and unique style of communication and involvement is strongly associated with social, emotional and intellectual development. Research shows that a male role model can have a huge impact on behaviour, which ultimately leads to happier, more productive children." 
Baby Sensory @Home provides simple, practical ideas for young families on creative play, massage, tummy time, movement, visual development, textures, scents and music, all of which can be easily repeated at home.  Using a combination of original and traditional songs and rhymes to develop early speech, language skills and sensory signing activities, sessions help parents to communicate with their babies from birth.
Dr Day added: "It may take some effort for new parents, including dads, to join an online group, but the more they do it, the easier it will become.  It takes a village to raise a child, but if the village no longer exists, it is important for new parents, mothers and fathers, to join supportive networks and community groups online, and to talk to friends and family as regularly as possible to protect against isolation, loneliness, and depression."