Read More News
Bumper 2022 visitor season for Felixstowe attraction
Felixstowe's unique Landguard Peninsula is gearing up for a bumper 2022 visitor season.
A full programme of events and activities is planned, from the return of The Great Felixstowe Museum Easter Egg Hunt to the Little Fort of Horrors, alongside Wildlife Discovery Days, military re-enactments and classic cars. There will also be special events to mark The Queen's Platinum Jubilee, including the Festival of the Sea.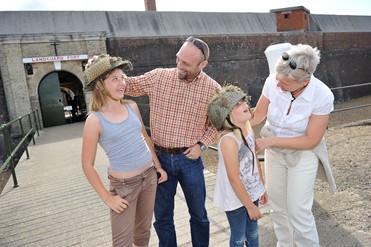 Visitors can already drop by to enjoy the year-round attractions of the peninsula; walking or cycling around the Landguard Nature Reserve, taking in the spectacular views of the Orwell Estuary and giant container ships arriving and departing at the Port of Felixstowe, spotting seasonal birds, or hoping to catch sight of a seal in the waters.
The historic Landguard Fort, one of England's best preserved coastal defences, with a history spanning almost 450 years, will be back open for February half-term – from Saturday 19 to Sunday 27. There will also be a fun quiz trail running throughout the week, with tickets available in advance at www.landguard.com/times-and-tickets-2. The View Point Cafe serves up all day breakfasts, fish and chips and homemade soup of the day.
Stephen Rampley, Landguard Marketing and Events Co-ordinator, said: "We are all set for a fantastic year at the Landguard Peninsula.
"Come and enjoy our wonderful attractions and exciting programme of events. There is something for all ages and interests."
Landguard 2022 opening dates
Landguard Fort: Saturday 19 to Sunday 27 February; Friday 1 April to Sunday 30 October (open Friday 1 to Sunday 3 April, then Thursday to Sunday during term time and every day during the school holidays)
Felixstowe Museum: Saturday 2 April to Sunday 30 October. Open Saturday, Sunday, Wednesday and Bank Holiday Mondays.
Landguard Nature Reserve: All year, daily, any reasonable time.
Harwich Harbour Ferry: Operates from Friday 1 April to Sunday 30 October.
View Point Cafe: Open daily 9am-4pm. Extended hours in summer.
For further information, visit the Discover Languard website.